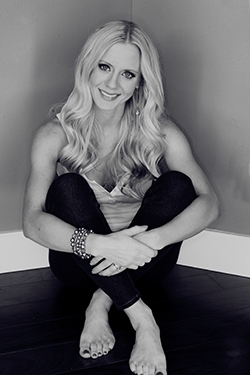 Hi there, I'm Kristine! Thanks for stopping by! I appreciate you coming to visit. Like many of you, I'm a busy mom trying to juggle it all and keep my family (and myself) healthy. I believe that healthy eating doesn't have to be complicated and require a lot of steps, or recipes with over 10 ingredients. I like to keep it easy, and of course, it has to be yummy. As for myself, I love anything coconut, pumpkin, vanilla, and my favorite ethnic food is Thai. A perfect day for me is enjoying my family, getting in a session at the gym, and whipping up a new healthy recipe that I can share with all of you.
I started Busy But Healthy, as I was having a hard time finding healthy recipes that were easy and delicious. I wanted healthy comfort food and treats that everyone would love, while still being healthy. I first started creating in the kitchen when I was a teenager, when I had a lot of food sensitivities. Its taken a lot of practice over the years to learn what works and what doesn't when it comes to cooking with healthy ingredients.
As a former fitness competitor, I've learned that being lean isn't only achieved by eating plain chicken and broccoli.  For me, sticking to a healthy lifestyle long term is about variety, and eating foods I enjoy.  I believe in balance, and everything in moderation.
Thanks again for visiting, and I hope you find some recipes and workouts you'll want to try!

Biography
Kristine is an e-book author, " 25 Quick, Easy, Low Sugar & Family Friendly Protein Bars, Cookies & Muffins", health and fitness columnist, contributor to Shape.com, SavvyMom.ca, Oxygen Magazine and Huffington Post.  Kristine is also an iFood.tv partner and hosted the Busy But Healthy Show which was a series of recipes, fitness tips and Q&A videos.
Kristine has worked in the natural health industry for over 15 years and is a Certified Natural Products Advisor (registered with the Canadian Health Food Association), and a BCRPA Certified Weight Trainer.
Being active has always been a priority. Growing up she enjoyed various styles of dancing and numerous sports. In her adult years she's enjoyed weight training, kickboxing, Pilates, yoga and group classes. She's also completed her first Tough Mudder.  Kristine has always had a passion for healthy eating which was instilled by her mother. From a young age she remembers going to their local health food store on a regular basis.
It was after the birth of her daughter in July 2008 that she became more serious about being fit. Finding new motivation to get her body back, she stepped on stage only 7 months after her daughter was born and placed 4th. Later, she went on to place 1st in the Advanced Fitness Model division earning her pro card. Becoming pro was her last fitness competition. More on why she decided to retire from competing.
She hopes to inspire other moms to get back into shape and eat healthier, even with a hectic schedule, and help people of all ages get healthy and be inspired to stay that way.
Kristine lives in the suburbs of Vancouver, Canada with her husband, and their 2 young daughters.
To learn more about Kristine's life and her journey to improved health, read her full story here.