On the hunt for an easy and amazing chicken recipe for your air fryer? Look no further! Not gonna lie, I love fried chicken. I don't have it that often though, as its so greasy and calorie laden. I was looking for a way to make chicken super crispy without having to sacrifice a lot of flavor or texture. After doing some research online and looking at various recipes, I noticed a lot of them used baking powder.
Its the baking powder that acts as a secret ingredient for chicken in the air fryer that gets the chicken skin ultra crispy. Almost like it is battered and fried.
I was pleasantly surprised how well it worked!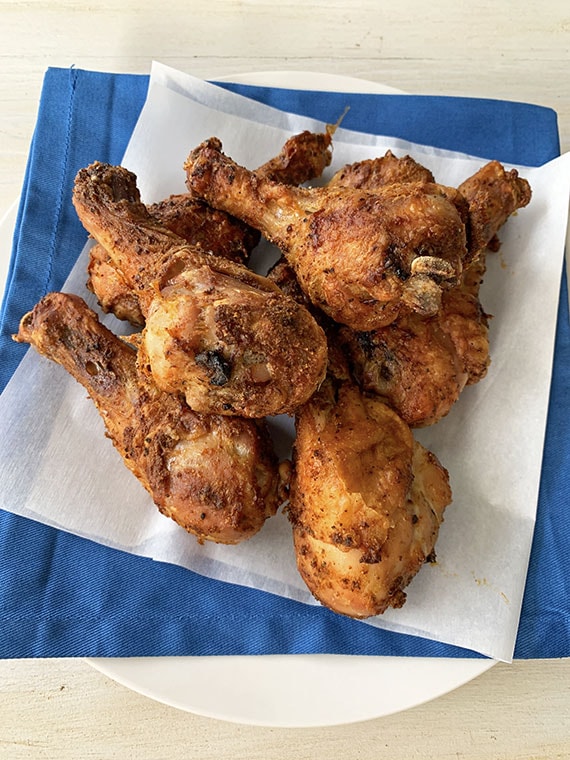 The measurements of the spices and baking powder don't need to be exact. If you use less or more drumsticks, more they are on the larger size, just adjust the amount of seasoning. The second time making it, I actually didn't measure any of the spices & baking powder at all. You just want the drumsticks well coated with the seasoning and baking powder.
Be sure to really rub the seasoning and baking powder into the chicken so you aren't left with white spots from the baking powder.

Extra Crispy Air Fryer Chicken Drumsticks
Extra crispy air fried chicken drumsticks! Ultra crispy skin, juicy chicken. No breading needed!
Author:
Kristine Fretwell
Ingredients
10-12 chicken drumsticks (bone-in, skin-on)
1 tsp salt
1 tsp pepper
2 tsp garlic powder
2 tsp smoked paprika
1-2 Tbsp baking powder
Instructions
Pat drumsticks with paper towel to remove some of the moisture.
Lay out the drumsticks to season them. I use a cookie sheet lined with parchment paper.
sprinkle the seasonings all over the chicken, flipping and doing both sides.
Rub the seasonings and baking powder very well into the chicken.
Let the seasoning sit on the chicken for 10-20 minutes. This is so the baking powder can absorb some of the moisture on the chicken and will help get the outside super crispy.
Pre-heat your air fryer. Best temp is 380-400 degrees.
Once chicken is ready to go in, lightly spray the air fryer basket with cooking spray or lightly brush with oil.
Arrange on a single layer as best you can. A slight overlap is ok. Lightly mist the chicken with cooking spray.
Cook the chicken for 35-40 minutes, flipping halfway through.
When finished, the skin of the chicken should be very crispy.
Serve when hot out of the air fryer.
Notes
*Baking powder is the secret ingredient so don't skip that. Use whatever seasonings you like. I have listed what I like and use. I really like the smoked paprika flavor on the drumsticks, but if its not your favorite, leave it out. A chicken & rib seasoning would also be a great addition.
Nutrition
Serving size:
1 drumstick
Calories:
162
Fat:
8 g
Saturated fat:
2 g
Unsaturated fat:
6 g
Carbs:
0 g
Sugar:
0 g
Sodium:
214 mg
Fiber:
1 g
Protein:
19 g