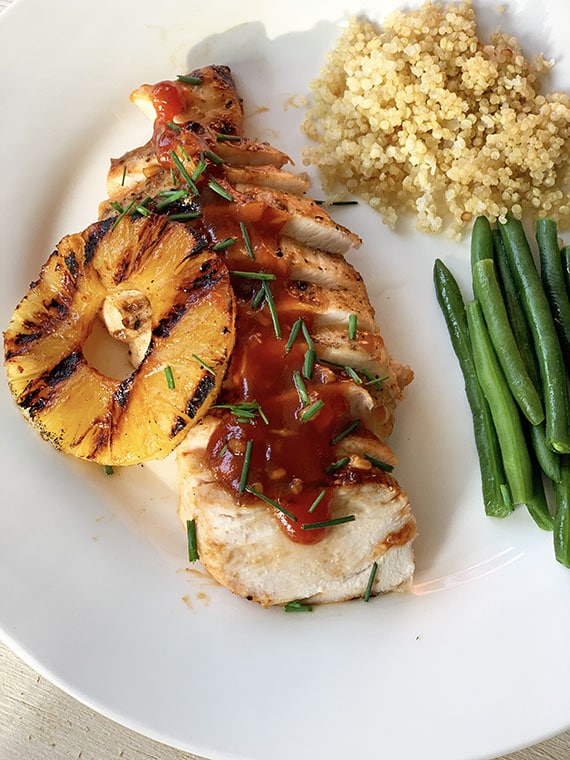 If you're looking for something a little different than BBQ sauced chicken, this is a great recipe! The sauce isn't a BBQ sauce, but more like a sweet pineapple style glaze.  What I especially love is there is enough sauce to glaze both the chicken and pineapple, as well as some additional dipping sauce to have after.
In my opinion, you can never have enough sauce. You can even save the extra for leftovers, if there are any. This chicken was also a hit with the kiddos, and they were really liking the grilled pineapple.
I love how there are only 6 ingredients! Aside from the canned pineapple, I had everything on hand. Who doesn't need more easy and delicious grilling recipes right?!
If you give this a try I'd love if you reported back in the comments!

Grilled Hawaiian Chicken
Grilled Hawaiian Chicken is the perfect BBQ chicken recipe. Sweet sticky chicken, with grilled pineapple with leftover sauce to use as dip.
Author:
Kristine Fretwell
Ingredients
1 lb boneless, skinless chicken breasts
1 396ml can pineapple rings (reserve juice)
⅔ cup ketchup
⅓ cup brown sugar
1 Tbsp garlic, chopped
1 Tbsp ginger, chopped
Salt & pepper
Instructions
Preheat your grill to medium-high heat.
Season your raw chicken breasts with salt & pepper and set aside.
Make the sauce. In a small saucepan, combine the ketchup, brown sugar, garlic, ginger and reserved pineapple juice (you should get about ¾ cup from the can). Mix until combined. Simmer over low/medium heat.
Meanwhile, once the grill is hot, place the chicken on the grill.
Once the sauce has simmered for 5 or so minutes, remove half of it to baste the chicken and pineapple on the grill.
Flip the chicken, baste the cooked side with the sauce, and add the pineapple rings to the grill to start cooking those.
When the pineapple gets grill marks, flip them and baste with the sauce.
Once the chicken is cooked through, baste again to make sure they are sauced well.
Meanwhile, your leftover sauce simmering in the pot should be thickened, and ready to use on the side if you desire.
Notes
*Make sure you are basting the cooked chicken (only baste when you've flipped them) as if you're basting raw chicken, then basting the pineapple, you could risk contamination.
Nutrition
Serving size:
⅕ of recipe
Calories:
193
Fat:
2 g
Saturated fat:
0.4 g
Carbs:
25 g
Sugar:
22 g
Sodium:
587 mg
Fiber:
1 g
Protein:
20 g