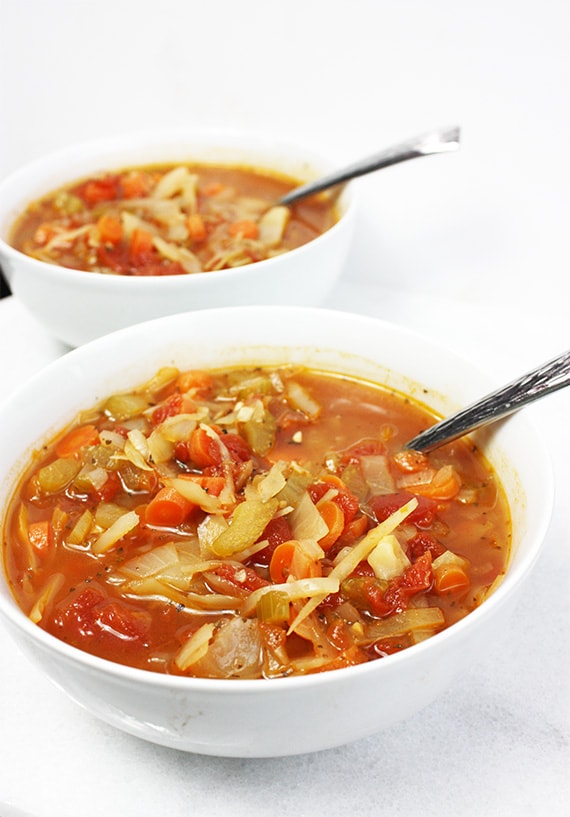 Happy "almost" new year! Not sure about you, but I'm definitely feeling the after holidays bloat! Not loving when I'm feeling gross! My tummy can't handle too many days in a row of bad eating, so its time to get back on track. This Detox Soup is a great start. It makes a big batch, its delicious, warm and comforting, and also helps to alleviate bloating! Cabbage and celery are natural diuretics. So this soup combined with drinking more water, eating less sodium and eliminating the sweets, should help me feeling better in no time!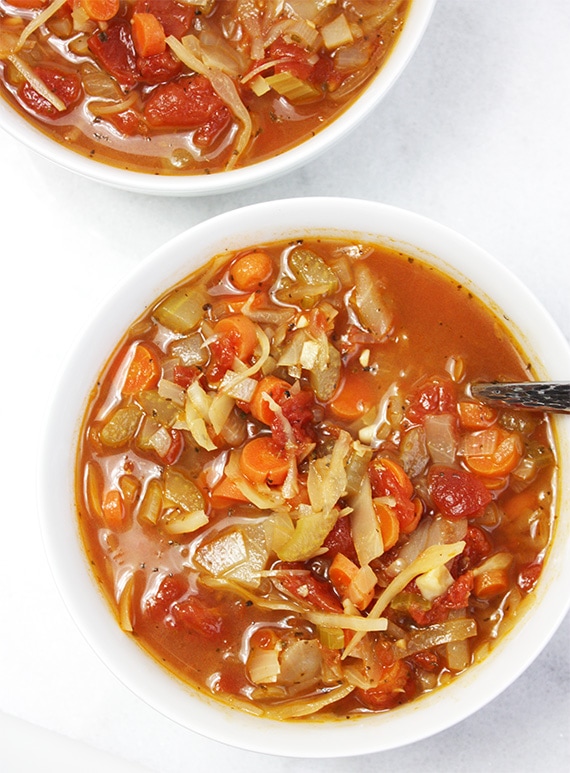 I made this soup in a big pot on the stove, but you could also make it in a slow cooker if you choose!  If you do that I'd cook it on high for about 3 hours or low for 5-6 hours.  I kept the veggie combo simple, but feel free to add any other veggies you like. For being a relatively simple soup, it still has a lot of flavor. Its also vegan as I used vegetable stock instead of chicken stock. You could easily use this recipe and make it a base for a really delicious Minestrone soup by adding beans and pasta (or rice).
This soup will also freeze well, so if the batch is too big if you're a single person, then put the rest in a sealed bag or container and freeze the rest.
I hope you give it a try!
p.s. Hope you had an amazing 2017, and all the best for 2018!

Detox Soup
Easy detox soup. Great jump start to healthier eating and helps to alleviate bloating.
Author:
Kristine Fretwell
Ingredients
½ head green cabbage, thinly sliced (4 cups sliced)
1½ cups celery, chopped
1½ cups carrots, chopped
1½ cups onion, finely chopped
4 cloves garlic, minced
1 - 28 oz can no-salt added diced tomatoes
1 carton (4 cups) less sodium vegetable broth
1 tsp dried oregano
1 tsp dried basil
½ tsp pepper
1 T oil
Salt (to-taste-optional)
Instructions
Add 1 Tbsp oil to large soup pot.
Add in carrots, onion, celery and cook until vegetables start to become tender.
Mix in minced garlic and cook a couple minutes more.
Add in the cabbage, can of diced tomatoes, vegetable broth, oregano, basil, pepper. Add salt if needed, to taste.
Simmer together for 20-30 min or until all the veggies are soft.
Notes
If you want your soup to have more broth, add extra vegetable stock, or water. Enough to your liking.
Nutrition
Serving size:
1 cup
Calories:
68
Fat:
1.5 g
Saturated fat:
0.2 g
Carbs:
13 g
Sugar:
6.4 g
Sodium:
98 mg
Fiber:
3.2 g
Protein:
1.9 g
Cholesterol:
0