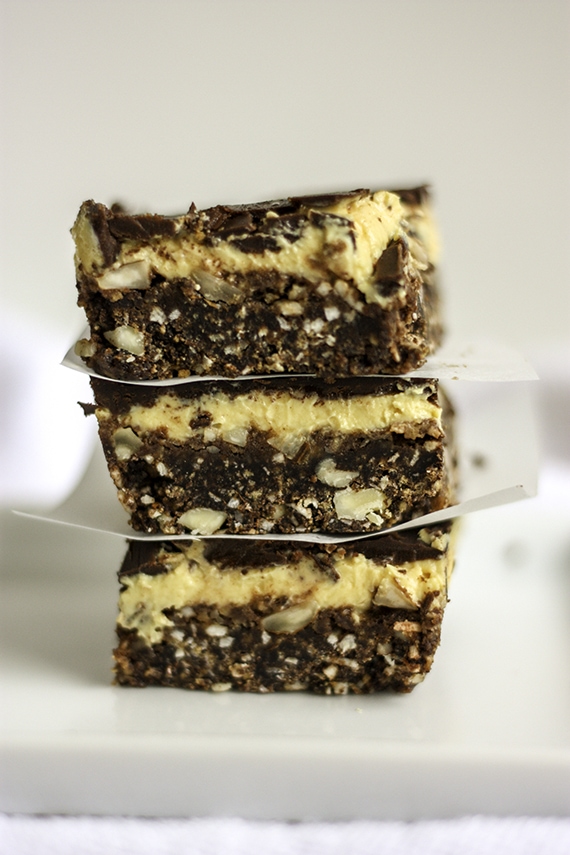 Is it ever a bad idea when there's chocolate?! These Healthier Nanaimo Bars are pretty darn close to the original, as I was having a craving for them post-Christmas. All the same flavors are there…the graham cracker/coconut/chocolate base in addition to the creamy custard middle layer and the rich chocolate on top. Traditional Nanaimo Bars have loads of butter, but in these, I traded out the butter in the custard layer with non-fat greek yogurt.
Years ago, I came up with a Nanaimo Protein Bar that has a little more protein than this, but the middle layer was coconut flavored vs. custard. I think these are a much closer to the original and there is only a slight difference in the calories.
As Nanaimo Bars are a Canadian thing, I use Birds Custard powder (which is actually a British ingredient) in the middle layer. Its mainly a thickener, as the ingredients are: cornstarch, salt, color. There is no added sugar and its only 15 cals a Tbsp. If you're in the US, I'm not sure what a good substitute would be if its not available to you, but my first thought would be sugar-free vanilla pudding mix. Honestly, all you're wanting to do is have the middle layer set, so you could always add 3 Tbsp cornstarch instead of custard powder and it will probably work just fine. It will just be white in color vs. yellow.
Healthier Nanaimo Bars
These Healthier Nanaimo Bars are close to the original but made without a ton of butter. Lower in sugar, less calories, and make a great no-bake dessert!
Author:
Kristine Fretwell
Ingredients
For the Bottom Layer
¼ cup coconut oil
¼ cup sugar
5 Tbsp unsweetened cocoa powder
1 egg, beaten
1¼ cup graham cracker crumbs
⅓ cup almonds, finely chopped
For the Middle Layer
1 cup non-fat greek yogurt
30+ drops stevia (or 2+ stevia packets to taste)
3 Tbsp plain custard powder (I use Bird's custard powder)
1 tsp vanilla
2 Tbsp icing sugar
For the Top Layer
½ cup semi-sweet chocolate chips
2 Tbsp butter or coconut oil
Instructions
In a small saucepan, start on the base layer.
Melt together the coconut oil, sugar and cocoa powder. Just until its hot (not boiling). Set aside for a couple min.
Meanwhile, in another medium bowl mix together the graham crumbs, chopped almonds and coconut.
Beat the egg in a small bowl with a fork and add to the small saucepan of the hot coconut oil/sugar/cocoa mixture. Whisk continually. The egg with thicken the sauce. You don't want the chocolate mixture to be too hot or it will scramble the egg. Hot, but not boiling does the trick.
Drizzle the chocolate mixture over the crumb mixture and mix well until combined. Clean hands work best.
Press into an 8x8 pan sprayed with oil.
For the middle layer, in another bowl, mix together the greek yogurt, stevia drops and custard powder and vanilla. Whisk well until smooth. Add the 2 Tbsp of icing sugar and mix more. Taste and add more stevia drops or packets depending on how sweet you want it.
Spread the custard layer over the base layer. Place in the freezer while prepping the top chocolate layer.
For the top layer, you can melt in the microwave or a small saucepan. In a small bowl (or saucepan), melt together the coconut chips and coconut oil (or use butter if you don't want it to have a hint of coconut taste). Allow to cool for a few minutes.
After the chocolate has cooled a little, remove the bars from the freezer and spread the chocolate layer over the middle custard layer with a knife or a small spreader.
Freeze or place in the fridge to set.
If putting in freezer, allow to thaw at room temp to cut into 16 squares.
If consuming within 4-5 days, it can be kept in the fridge. If you want it to last longer, place in the freezer. I find they are easy to eat straight out of the freezer.
Nutrition
Serving size:
1 square
Calories:
195
Fat:
12 g
Saturated fat:
8 g
Carbs:
18 g
Sugar:
10 g
Sodium:
84 mg
Fiber:
2 g
Protein:
3.2 g
Cholesterol:
16 mg