Birthday cake….and sprinkles. Probably one of the most enjoyable treats that exist! So I figured it was about time to put it into a protein bar.
The texture of these bars are amazing. Soft, and easy to eat. You'll want to keep them in the fridge as they'll get quite soft at room temperature.
My homemade quest bars are one of the most popular recipes on the site. More people seem to be getting familiar with vitafiber, which is a sticky sweet syrup that is high in fiber and low in carbs, and is the key ingredient in many store-bought protein bars.
Making your own bars at home is more cost effective, and you have control over the quality of the whey protein you're using as well as the other ingredients. It doesn't really get much easier, since its only a few ingredients to put these together, and they taste amazing!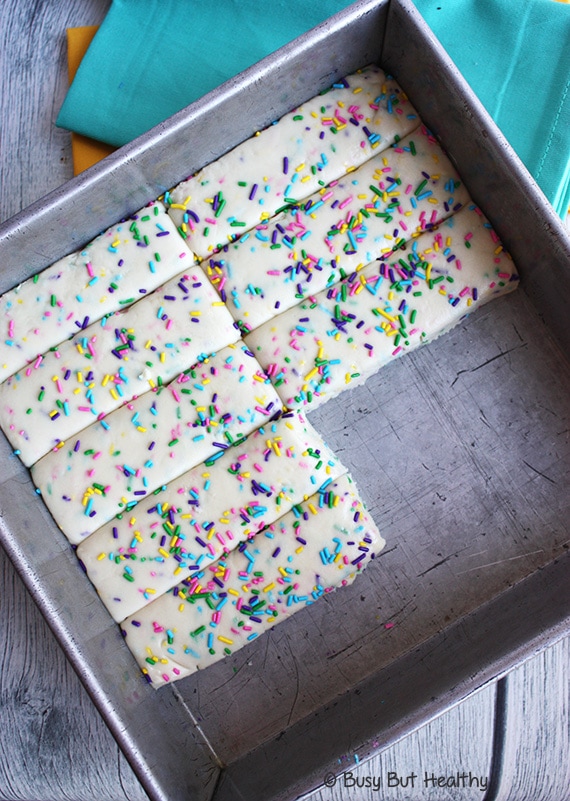 If you prefer chocolate cake, you could easily swap vanilla protein for chocolate, and add chocolate sprinkles instead. You could also switch things up and use peanut butter instead of coconut butter for a different version.
I hope you give them a try, and let me know what you think in the comments!

No Bake Birthday Cake Protein Bars
Author:
Kristine Fretwell
Ingredients
1½ cups vitafiber syrup
3 cups whey protein isolate, vanilla (I used Diesel New Zealand Whey in Vanilla)
½ cup coconut butter (I used Nature's Way Raw Coconut)
¼ cup sprinkles
Instructions
Mix together the vitafiber, whey protein and coconut butter until it forms a dough.
Mix in the sprinkles with a wooden spoon or clean hands.
Press dough into an 8x8 or 9x9 pan sprayed with a light layer of cooking spray.
Place in fridge for 30 minutes. Cut into 12 bars.
Keep stored in the fridge or freezer.
Notes
Optional add ins (to taste): vanilla extract & or vanilla stevia drops.
Nutrition
Serving size:
1 bar
Calories:
245
Fat:
7 g
Saturated fat:
5 g
Carbs:
28 g
Sugar:
3 g
Sodium:
42 mg
Fiber:
23 g
Protein:
28 g
Cholesterol:
1.5 mg
I'm Kristine Fretwell, busy mom of 2 little girls, author, blogger, and former pro fitness competitor. I love almost any kind of cookie, anything coconut or pumpkin flavored, and Thai food. A perfect day for me is enjoying my family, getting to the gym, and whipping up a new healthy recipe. I've got a collection of over 300 healthy recipes, and other tidbits like fitness and health tips. My recipes have been featured on websites such as Huffington Post, Savvy Mom, Shape and Skinny Scoop.