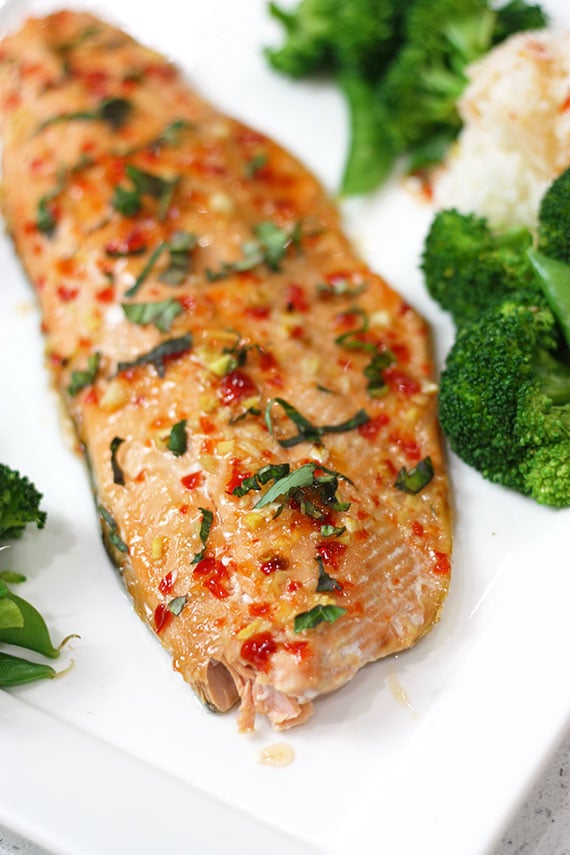 Delicious salmon done in about 10 minutes? Yep, sign me up! One thing I love about fish is how simple it is to make. All it really needs is an easy sauce over top and its perfect! You can also play around with the cooking method. Bake, broil or even saute in a pan, and drizzle the sauce on after. Just use whatever method you prefer.
For this Chili Ginger Salmon, I decided to broil it, as it was the quickest method with the least amount of mess.
I highly recommend lining your baking sheet with foil, as the sugars in the sauce will caramelize, and I found some of the sauce burnt around the edges of the salmon. I personally liked it with the sauce baked on it, but you could easily warm it up and pour over top of the cooked salmon if you want to prevent that.
My salmon fillet was on the thinner side, so it cooked in about 6 minutes. If you use a thicker piece, or thicker salmon portions, it may take longer. As long as its to the point of flaking easily like above its done! You can even cook it a bit less than that if you like it done medium (not fully cooked in the center).
I love how few ingredients this is and how quickly it comes together. I have some other great salmon recipes if you're a salmon lover like I am! A few of my faves are the Sweet Honey Garlic & Ginger Salmon, Sun Dried Tomato Salmon with Italian Chopped Salad, Gluten-Free Panko Crusted Salmon & Salmon with Lemon Dill Sauce.
Chili Ginger Salmon
Author:
Kristine Fretwell
Ingredients
4 - 4 oz salmon fillets (or 1 large 16 oz salmon fillet)
For the Sauce
4 Tbsp sweet chili sauce
1 tsp fresh ginger, minced
1 tsp fresh garlic, minced
1 Tbsp lime juice
For the Garnish
3 tsp fresh basil, chopped
Instructions
Preheat your oven to broil low. Line a baking sheet with foil.
Mix together all the sauce ingredients in a small bowl.
Spread the sauce over the salmon.
Broil for 5-7 minutes until fish flakes easily. Cook time will depend on the thickness of your salmon. Mine was on the thinner side, so it took just over 5 minutes.
Once out of the oven, garnish with fresh chopped basil.
Nutrition
Serving size:
¼ of recipe
Calories:
227
Fat:
9.2 g
Saturated fat:
2.4 g
Carbs:
6.3 g
Sugar:
5 g
Sodium:
115 mg
Fiber:
0 g
Protein:
27 g
Cholesterol:
72 mg