Picture the perfect piece of chicken with a delicious sauce that's so tasty you'll want to lick your plate. Yeah, that's this chicken. I'm still thinking about it since I originally trialed the recipe! This may just be one of my favorite baked chicken recipes to date.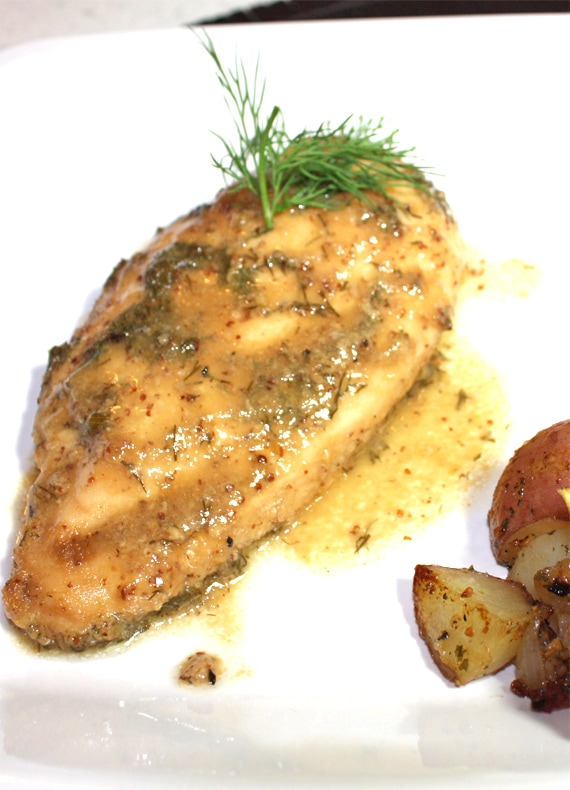 Its simple enough for a weeknight, but classy enough to serve to guests. You'll want to pour the sauce over everything, so thankfully, there is plenty to spare. I'll be making it again asap. Not only did my hubby go back for seconds, but for thirds, and scraped every last bit of the sauce from the dish.  Next time, I'm doubling the recipe so we have leftovers!
Dilly Lemon & Maple Baked Chicken
Tender chicken in a sweet sauce with the flavors of lemon and dill. Perfect for a weeknight dinner and fancy enough to serve to guests.
Author:
Kristine Fretwell
Ingredients
1 lb chicken breasts (454 grams or 16 oz) *4 chicken breasts
3 Tbsp grainy Dijon mustard
¼ cup maple syrup
2 Tbsp lemon juice
2 tsp lemon zest
1 Tbsp olive oil
1 Tbsp balsamic vinegar
2 garlic cloves, minced (I grated it with a microplane)
¼ tsp salt
¼ tsp pepper
2 Tbsp fresh dill, chopped
Instructions
Mix together all the ingredients and thawed raw chicken.
Marinate in a covered bowl or ziplock bag for 1 - 8 hours. (If you're in a pinch, skip this step).
Preheat oven to 350 degrees F. Spray a 9 x 13 " inch baking dish with cooking spray. Pour chicken and leftover marinade into the baking dish and bake uncovered for 35 min.
Great served alongside roasted veggies.
Notes
Note: There is plenty of sauce, so you can add up to 6 chicken breasts and have enough sauce for them all.
Nutrition
Serving size:
4 oz chicken and ¼ of sauce
Calories:
228
Fat:
6.5 g
Carbs:
17 g
Sugar:
13 g
Sodium:
447 mg
Fiber:
0.1 g
Protein:
26 g
I'm Kristine Fretwell, busy mom of 2 little girls, author, blogger, and former pro fitness competitor. I love almost any kind of cookie, anything coconut or pumpkin flavored, and Thai food. A perfect day for me is enjoying my family, getting to the gym, and whipping up a new healthy recipe. I've got a collection of over 300 healthy recipes, and other tidbits like fitness and health tips. My recipes have been featured on websites such as Huffington Post, Savvy Mom, Shape and Skinny Scoop.