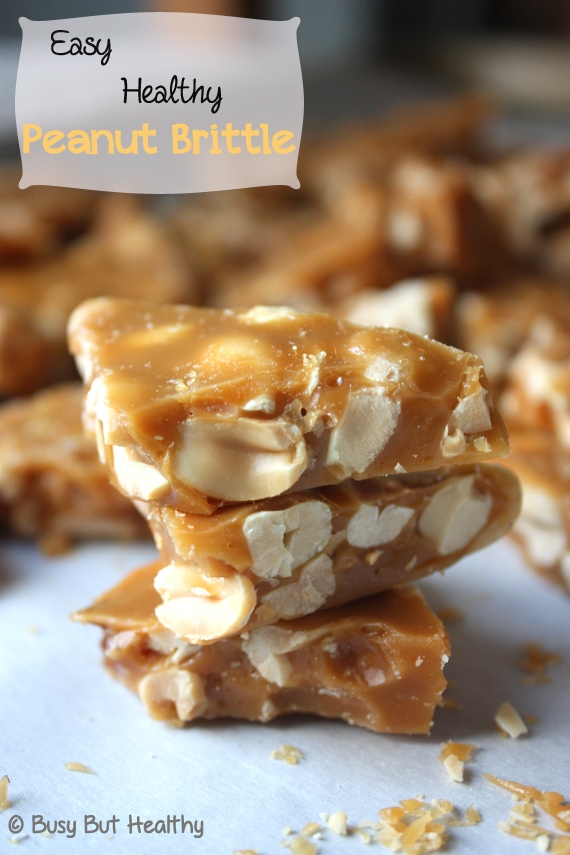 Did you ever have peanut brittle growing up? I sure did. My Mom made it a couple times a year, and we really looked forward to it. The smell. Oh my gosh. The smell. Its intoxicating, in the most delicious way possible.
I'm no candy maker by any means. I don't own a candy thermometer. I get my ratios wrong. I've tried sugar free candy, and that's failed miserably. I honestly didn't think it was even possible to do it with natural sweeteners. I figured it had to be made with corn syrup, sugar, and golden syrup.
But, the other day, I was watching Food Network, and Rachael Ray's Week in a Day came on, and she did this brittle recipe. I was inspired! She threw things in and it looked easy. So it inspired me to give it a whirl once again!
I changed around the sweeteners, let it cook and crossed my fingers. I thought it might turn out more like caramel, and not harden. But to my surprise, as soon as it started to cool, it started to harden. You can imagine my excitement!
I've had a couple friends try it, and we all agree that it tastes so close to traditional brittle. You'd definitely have no idea that it was made with natural sweeteners.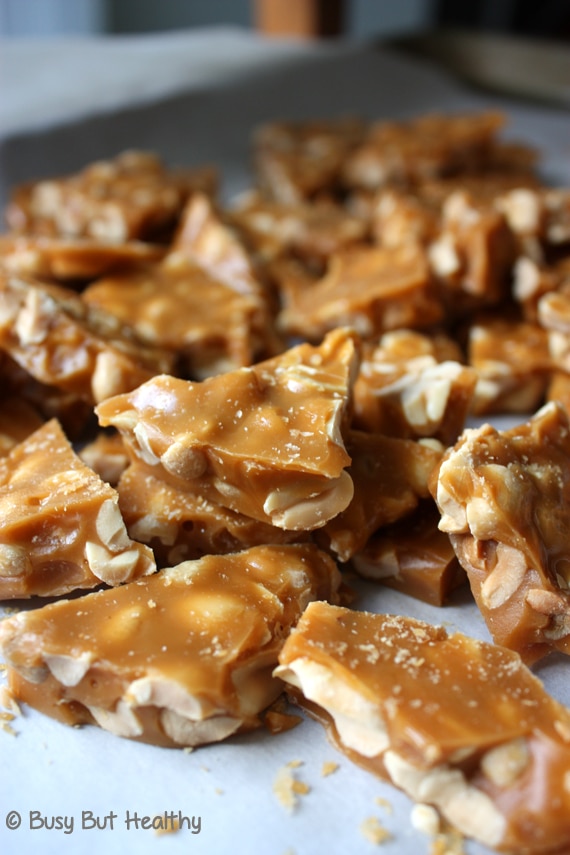 I love that this recipe is so easy, there is no candy thermometer needed. The recipe makes 4 cups of brittle, so there is a good amount. Putting a little in a cute little bag with a bow would make a great holiday gift!
Note on substitutions: I feel that the brown rice syrup in this recipe is needed, so I wouldn't replace that for another sweetener. Its much more thick than other liquid sweeteners.  The honey could probably be subbed for agave or maple syrup, but again, I haven't attempted it. Cane sugar (if you haven't used it), is basically less processed white sugar.

Easy Healthy Peanut Brittle
Healthy and easy peanut brittle. Made with natural sweeteners. Gluten-free and no candy thermometer needed!
Author:
Kristine Fretwell
Yield:
4 cups brittle pieces
Ingredients
1½ cups blanched unsalted peanuts (just regular plain peanuts with no salt. I got mine in bulk)
1 tsp vanilla
½ cup cane sugar
½ cup brown rice syrup
¼ cup honey
½ tsp salt
1 stick salted butter (1/2 cup)
Instructions
Preheat your oven to 350 degrees F.
Spread the peanuts on a cookie sheet and place in the oven to roast them a bit and bring out their flavor. Roast for 9-10 minutes until they start to turn golden. (After 8-9 minutes, keep an eye on them so they don't burn)
Prepare another cooking sheet lined with parchment paper or a silipat mat (where the brittle will cool), and another separate piece of parchment paper (to press out the brittle when done)
In a medium sized pot on the stove, add the cane sugar, brown rice syrup, honey, salt and stick of butter.
Turn on the stove, and heat over medium/high heat. Keep it at a rolling boil, stirring frequently. This entire step will take 6-7 minutes if you care to time it. It will thicken and go a darker shade (similar to butterscotch). At this point, add the vanilla, and stir a few more times. You'll know its done as you'll know that if you go longer, it will burn. (you can smell it and the texture will start to change slightly)
Remove from heat and quickly add in the peanuts and stir well.
Pour the brittle onto your cookie sheet lined with parchment paper. QUICKLY place the other sheet of parchment on top and press out (put oven mitts on as its hot, or use your other cookie sheet). It will start to harden quickly.
Allow to cool completely, and break into pieces. Store in plastic baggies, tin, or in a single layer in a sealed container layered with parchment paper.
Nutrition
Serving size:
¼ cup brittle pieces
Calories:
218
Fat:
12.8 g
Saturated fat:
5.1 g
Carbs:
22 g
Sugar:
16 g
Sodium:
58 mg
Fiber:
1 g
Protein:
3.8 g