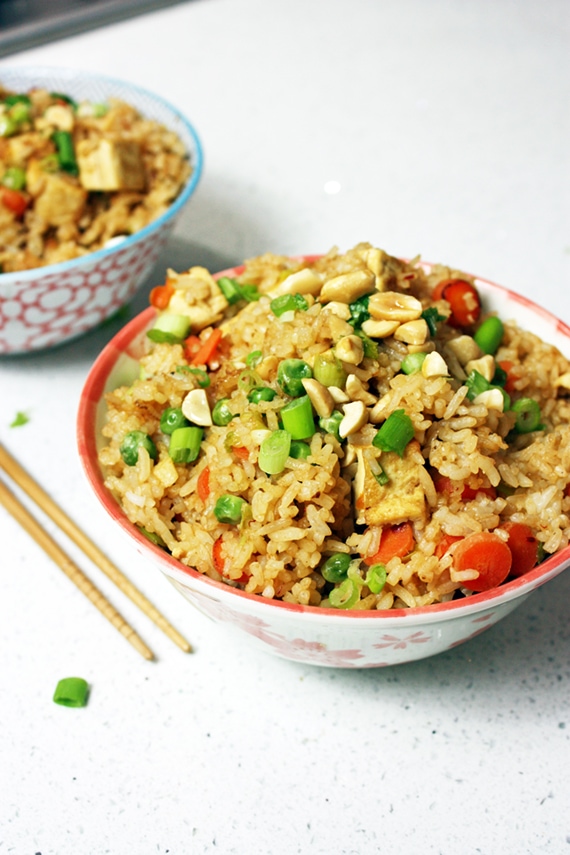 Fried rice is so easy to make, and so satisfying. Hard to go wrong with crispy rice, with vegetables, in a sweet and salty sauce. This recipe can be made vegan by swapping out honey for agave syrup. This easy tofu fried rice is perfect to make if you have some leftover rice in the fridge. But, heck, its so good its worth making a batch of rice to do this recipe!  If you are in a rush and don't want to cook a batch of rice, you could easily use the store bought microwaveable packs in plain white or brown rice.
The only thing missing here are those super cute asian take-out boxes. Those are the best. It seems like I've only seen them in the movies. I've never actually gotten them when I've ordered from a chinese food restaurant. Am I the only one?  Anyways, back to the rice. This was a really great weeknight dinner when I had a bunch of leftover rice in the fridge, not a lot of veggies and all the ingredients for the sauce.  For the recipe, I made it with coconut aminos instead of soy sauce. Just simply because I had it on hand, and I like how its less sodium than even lower sodium soy sauce. I use the coconut aminos from Trader Joe's. I get some whenever I go across the border as its much less expensive than the one I see in grocery stores here in Canada.  Another substitute that would be amazing with this would be tamari, as it has a much richer and more savory flavour than the coconut aminos which are a bit more on the sweet side. Next time I'm going to try with gluten-free tamari and see how it compares.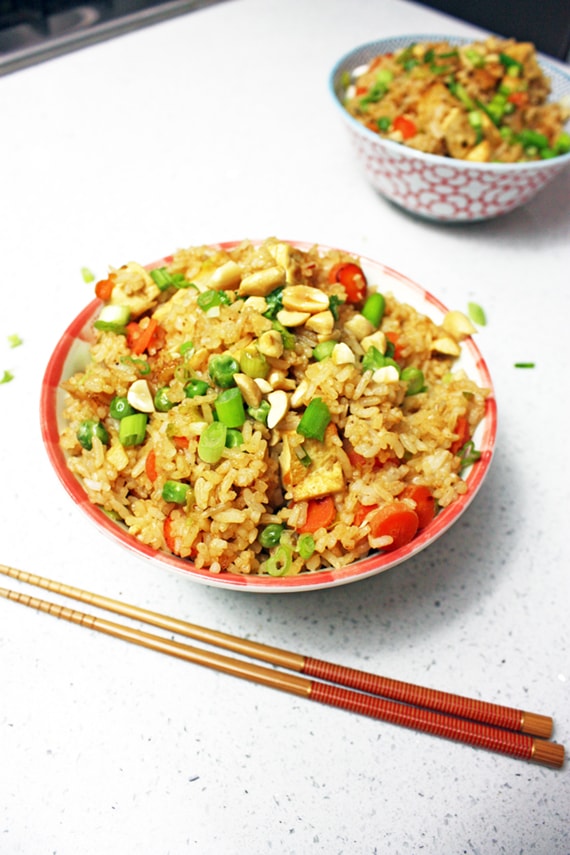 This recipe makes 5 servings, and would also make a really great side to an Asian themed meal. p.s. It would go really alongside this Sweet n Sour Chicken.

Easy Tofu Fried Rice
Vegan easy tofu fried rice. Great and healthier asian weeknight meal. Perfect recipe to make with leftover rice.
Author:
Kristine Fretwell
Ingredients
For the Sauce
1 Tbsp peanut butter or almond butter
1 Tbsp honey (for vegan use agave)
1 large garlic clove, minced
1 tsp chili garlic sauce
4 Tbsp coconut aminos (or lower sodium soy sauce)
For the Rice/Veg
5 cups cooked white rice (or brown rice)
1 cup frozen peas
1 cup carrot, chopped into small pieces
1 cup green onions, chopped
350 grams (1 pack) extra firm tofu, cut into bite sized cubes
Instructions
In a large skillet, spritz with oil and add the cubed tofu and saute until the tofu has dried out and is crispy.
Meanwhile, combine all the ingredients for the sauce.
Once the tofu is done, add about ½ of the sauce and cook until the sauce reduces and forms a nice crust on the tofu. Remove from the skillet.
To the same large skillet, spritz with oil, add the carrots, allow to cook until they start to soften. Then add in the green onions and peas.
Once done, add in another spritz of oil, the cooked rice and the other half of the sauce and fold together until the rice, sauce and the veggies are all combined well. Allow the rice to cook (without flipping it) for a few minutes at a time so the rice can get crispy.
Once the rice starts to crisp up in various spots, it should be almost done.
Add the tofu back into the rice mixture and fold together until combined.
Nutrition
Serving size:
⅕ of recipe
Calories:
341
Fat:
5.1 g
Carbs:
62 g
Sugar:
11.3 g
Sodium:
315 mg
Fiber:
4 g
Protein:
13 g
Cholesterol:
0 mg