Happy Hump Day!  Hope you all had a fabulous Valentine's Day!  I was stuffed full of steak and potatoes, so we spent most of the night on the couch!
For today's Favorite Find, its hot off the presses. I just tried the product for the first time a few days ago.  Disclaimer: I was sent this product by the company to sample and provide a review if I wish.  You all know I never would write about a product that I truly didn't love.  I'm so glad I had to opportunity to try it, because to be honest, if I saw it in a store, I would have thought it wasn't much different than regular flax I buy.
But, oh-my-goodness, it is much different than regular flax seeds. I'm loving it!
Omega Crunch – Shelled Flax Seeds in Maple and Roasted Garlic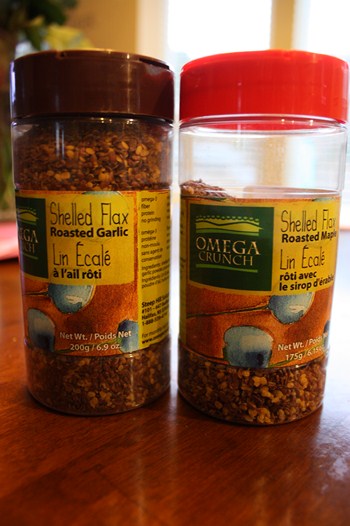 As you can see, I've already gotten into the Maple flavor in a huge way!  When it first arrived, Sienna and I were eating it by the handful! Yes, my 3 year old was eating flax! Nice!
It really is crunchy.  It has these little flax clusters.  The maple is lightly sweetened, and oh-so delicious.
Nutrition Facts:
Its also no-GMO, gluten free, sodium free, no preservatives. I typically use about 2 Tbsp as a serving, which is 6 teaspoons.
Ingredients (in maple): shelled flax seed, maple syrup (in roasted garlic) shelled flax seed, garlic powder, pure sesame oil
I really love it on my oatmeal….
I've used the roasted garlic flavor on a salad, and that was great too. Its hard to see under the bazillion toppings, but its there!
Next, I want to try it on a sweet potato. Mmmm.  The possibilities are endless….yogurt, oatmeal, fruit, rice, etc.
Why its different from 'regular' flax seeds…
Regular flax seeds aren't shelled, so its difficult for your body to use the Omega 3 unless you grind them.  Omega Crunch is hulled, meaning the kernel is separated (see how there is brown and yellow in there), making it easy to digest the Omega 3.
Why you need Omega 3 in your diet…
Here's a great article listing all the benefits of adding Omega 3 to your diet.  I typically take an Omega 3 supplement, but it is better to get it from a food versus a supplement.  The great thing about flax is that its also low carb and has fiber. Don't get hung up on the fat content.  Its good fat that your body uses, and doesn't store as fat.
Where to get it?
They are in quite a few stores across Canada (see Store Locator), buy they ship online to anywhere in the US and Canada.
You can also follow Omega Crunch on Facebook 🙂
I need to get online and order some more, as this maple flavor is disappearing fast!
Question: Are you normally a flax user?