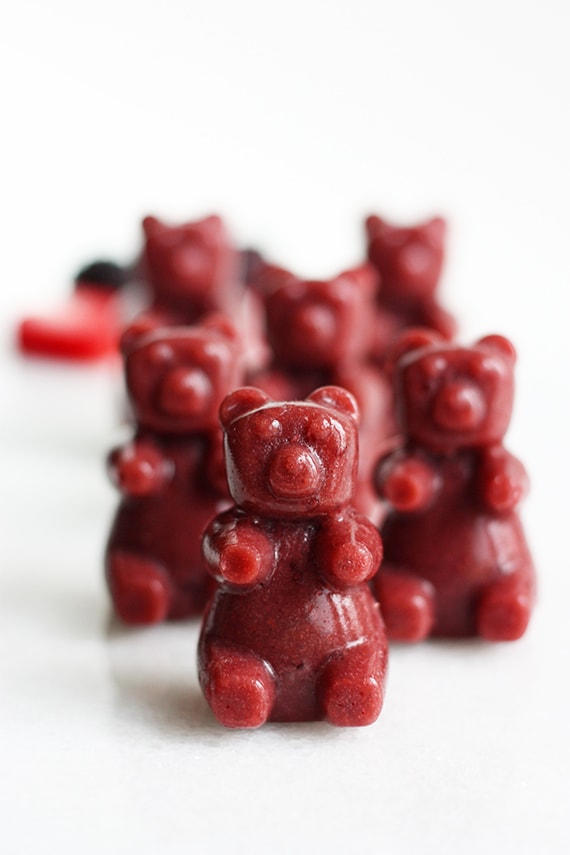 I love when kids snacks are cute and can be made healthier. I mean, what kid doesn't like gummies?! Mine are no exception. Anything sweet and gummy-like that contains fruit or anything sweet seems to be a big hit!  This recipe is so versatile, and you could use any kind of fruit your kids like.
Personally, I think the best frozen fruits to use would be strawberries, raspberries, blueberries, mango, pineapple, banana or a mixture. A berry mixture would be great, or a more tropical mixture with mango/pineapple/banana.
Since we're in Feb and not at the time of year with an abundance of fresh fruit, this recipe calls for frozen fruit which is the easiest to get this time of year.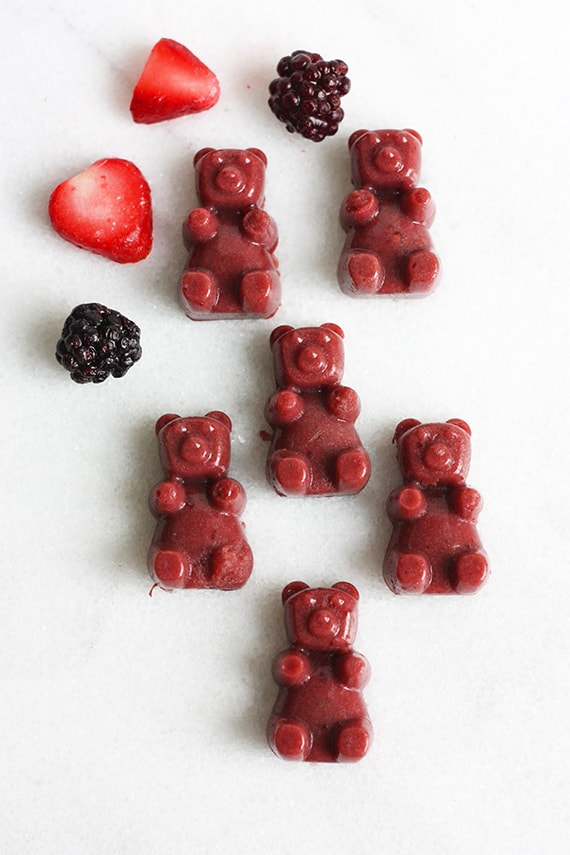 In my combo of fruit for these, I used frozen strawberries, and to add a little more nutrition, I tossed in a frozen Blender Bites puck (the berry and greens one), as it contains berries and greens. As mentioned, whatever you decide to use is fine. It all gets blended up anyway, so just use what you have on hand or what you think would taste good in gummy form.
I love the color of the red gummies, and its sort of fitting with Valentine's Day coming up. The only thing I would be mindful of is not using too much green or yellow in the mixture as it might make the gummies an unappealing brow-ish color. To avoid that, I'd go easy on the banana and greens.
Oh and some of you were asking about the molds I used. I got these on Amazon a couple years ago, and they don't appear to be available any longer. If you like the bears, check out these bear molds (they are smaller) or these (larger bear molds). If I were to get a new mold, I'm in love with these adorable emoji molds.
Happy gummy making!

Healthy Homemade Fruit Gummies
Healthy homemade gummy fruit snacks that are super easy to make and naturally sweetened.
Author:
Kristine Fretwell
Ingredients
2 cups thawed frozen strawberries (or fruit of choice)
Stevia liquid or powder to taste (I used about 20 drops vanilla stevia)
2 Tbsp gelatin powder
Optional
(include in fruit mixture) 1 puck Blender Bites berries and Greens
Instructions
In a microwave safe bowl, add in 3½ - 4 cups frozen berries (it will reduce down to 2 cups).
Microwave until fruit is completely thawed and warm (about 3-5 minutes).
Measure out 2 cups of the fruit and liquid.
Place in blender and blend very well until liquefied.
After blending (if desired), put mixture through a mesh strainer. Note: I have a Blendtec and mine didn't have much if anything to strain out after.
To the bowl, very slowly whisk in the gelatin. If you don't do it very gradually, it will clump.
Pour into desired silicone molds and chill at least 2-3 hours until set.
Will keep for about 5-6 days in the fridge.