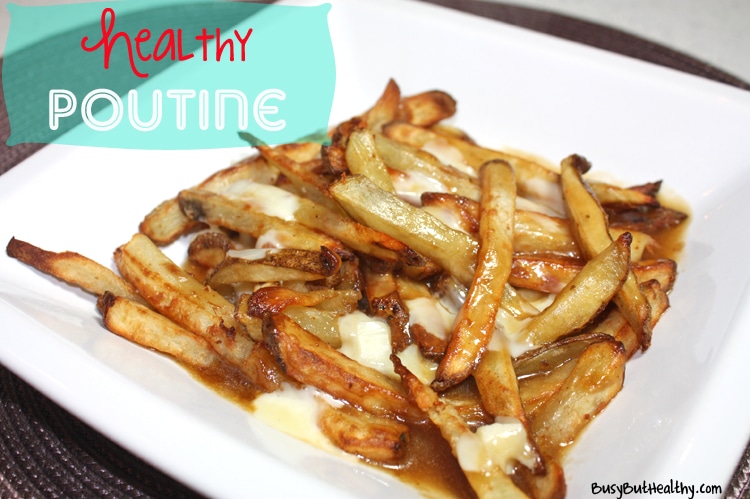 Fries, gravy & cheese. Can you really go wrong with that? Poutine is indeed a Canadian thing. It was actually founded in Quebec. Traditionally, its french fries, beef gravy and cheese curds. Instead of using cheese curds, I substituted for part-skim mozza cheese to keep the fat down, and its not like cheese curds are available at all grocery stores…especially south of the border.
Growing up, I rarely had french fries. But that all changed when I got to junior high. I frequently had regular fries and gravy…from the cafeteria… every chance I could get. Not healthy at all. To this day, I still love having fries in moderation, so this recipe will be my go-to when I have a fries and gravy craving. Its much lower fat than regular fries, way less salt, but still tons of flavor.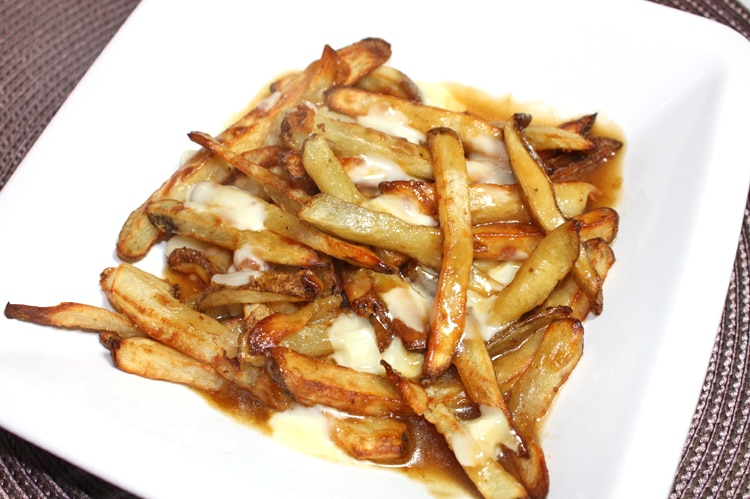 Its safe to say my hubby loved these as well. They were gone before we knew it!
Many people have boycotted potatoes, as they are 'starchy'. In my opinion, they're a much better option than bread. Sure, they're starchy, but they're still a vegetable, and a great way to get complex carbs. Keep the skin on, and get the extra fiber, too.
I hope your family enjoys this as much as we do!
Healthy Poutine
This recipe for Healthy Poutine might just become a new favorite. Lower fat, lower sodium, sugar free and gluten free than traditional french fries. Have your fries, and eat them too! No guilt here!
Author:
Kristine Fretwell
Ingredients
For the fries
888 grams russet potatoes or whatever potato you prefer (1 lb 15 oz), cut into french fry-style pieces (I used a mandolin) *If you don't want to use fresh potatoes, the only store-bought frozen fry I'd recommend is Alexia (although calories, fat and sodium will be higher)
3.5 oz part skim mozzarella cheese, cut into small cubes (will be about ¾ cup of cubes)
1.5 Tbsp of oil (this is what was required to cook in my Actifry, omit if you use frozen fries)
For the gravy
1 Tbsp oil
1½ Tbsps gluten free flour (or regular flour if not gluten free)
1½ cups beef stock (I used the carton kind, lower sodium)
few dashes of Worcestershire sauce
Pepper to taste
Instructions
For the fries
Preheat your oven to 375 degrees. If using an ActiFry, you don't need to set the temp.
Cut your fries into fry shapes using a knive or mandoline. Pat them dry with a paper towel or dry kitchen towel to remove excess moisture.
If using the Actify, put your fries in the machine, and add 1½ Tbsp oil. If baking in the oven, put all the fries in a big bowl, add in 1½ Tbsp of oil and toss until coated.
With the Actifry, they will bake for approx 30 minutes until golden. If using an oven, bake for approx 30 minutes as well, and make sure you turn them a couple times during cooking.
For the gravy
Heat 1 Tbsp oil in a small saucepan over medium heat. Add the flour and whisk until it makes a paste. Cook for 30 seconds, then slowly start adding in the beef stock.
Add in Worcestershire sauce and simmer until thickened.
Add pepper to taste if desired.
To finish the dish
Place a serving of fries on a plate, add ¼ cup of the cubed mozza cheese. Pour over ¼ of the hot gravy.
Notes
*If you use the Alexia Yukon Gold Fries
Nutrition
(per serving) Calories: 402 Fat: 18 g Carbs: 50 g Fiber: 8.2 g Sugars: 0.3 g Sodium: 820 mg Protein: 13.5 g
Nutrition
Serving size:
1 serving
Calories:
331
Fat:
12.7 g
Carbs:
43 g
Sugar:
1.7 g
Sodium:
303 mg
Fiber:
3.2 g
Protein:
13 g