So it's 2015! Can you believe it? I love when a new year begins, its a great time to focus on goals and start fresh! If one of your goals is to eat healthy or continuing to eat healthy, but need new ideas, this is a great post for you!
I wanted to create an all-in-one place nutrition resource so its easy to reference all the handy lists I've created over the years, plus a healthy sample meal plan with a weeks worth of meal ideas.
Eating healthy is crucial if you're following an exercise program. If your nutrition isn't on point, you won't see results. That's why I wanted to do this for those that are following one of my 12 week workout programs.
What are the steps to follow when partaking on a healthy eating program?
1) Determine your strategy.  Will you be counting calories and or macros or will you simply eat healthy foods and let your appetite be your guide?
If you're planning on counting calories but not sure where to start (and you're looking for a free resource), go to this calculator.  Its a great start in understanding how much you'll need each day.
If you'd rather not count calories, and just eat healthy, that is also a great option. You just need to be mindful of portion sizes. Here's a great article that discusses portion sizes. I've personally not counted calories for years, but I used to, so I think its given me a better understanding of eyeballing portions. If you're a beginner to eating healthy, I'd recommend counting for the first little bit to get a handle of how much you might need.  Also, as an intuative eater, I also never eat until I am full, only until satisfied. If you don't feel like you can get up and go for a brisk walk after, you've probably eaten too much.
2) Eat the foods that you enjoy eating
Seems simple right? But I can tell you first hand that if you're going into a healthy eating program with a diet mentality, it will not be long lasting. Sure, the stricter you are, the faster your results will be, but you'll also be more likely to fall off the bandwagon quicker. But, if you're eating healthier version of your favorite foods, it won't even feel like a diet at all, its simply a way of life and way of eating, and you won't crave a lot of junk food!
3) Knowing that you will have to cook
A diet full of convenience foods is not good for you (we know that). Part of eating healthy is cooking. If you don't like to cook or feel you aren't good at it, stick to simple recipes, and I have plenty of no-bake snack options. But I'm not going to lie, it does take a little bit of prep and a little effort to undergo a healthy eating plan. But its so worth it as over time you'll look and feel better and wonder why you didn't do it sooner! But I will tell you that I don't meal plan! I like the freedom of deciding that morning what I want to make for dinner, not a week in advance. So it is possible to eat healthy and not plan far in advance. My grocery shopping list will help you stock a healthy fridge, pantry and freezer so you always have ingredients on hand to make great meals.
Essential Lists
– My Healthy Food Grocery Shopping List
– 35+ Quick & Healthy Breakfast Ideas (ranging from 5 minute breakfasts, to make ahead options, to weekend breakfasts when you have more time)
– 25+ Quick & Healthy Snack Ideas
– My full Recipe List (everything from healthier appetizers to desserts)
Easy Tips
– Try to drink at least 6 glasses of water per day
– Substitute diet soda and juices for unsweetened tea
– Have a sweet tooth? Stevia drops are a great option to sweeten yogurt and smoothies (NuNaturals is my favorite)
– Still hungry after a meal? Eat more veggies
– If you really want a treat, have it, but just have a serving
– If you have a very busy schedule during the week, its a good idea to devote 1 day a week to meal prep. Make roasted veggies, chop fresh veggies, grill chicken, make muffins and bars. Then during the week its more grab and go, and meals are more assembly versus cooking from scratch
Common Myths
I just wanted to address a couple myths that are present in the health/fitness industry. You may have not even heard or these before, or maybe you have.
No carbs before bedtime? This myth has been dispelled. Here's a great article with the research and details.
Eating fats will make you fat. False! Eating too many calories overall makes you gain weight. You will actually be more satisfied incorporating moderate fats in your diet versus a low fat diet.
Want to bust some more myths? The Dietitians of Canada have a great list of 39 popular food and nutrition myths. A link to the article is here.
7-Day Sample Meal Plan
What would a typical week look like? This healthy sample meal plan will give you an idea. A perfect example of what I might eat in a week. I'm not specifying portions as everyone will different amounts based on your current weight and whether you want to lose weight or maintain your weight. This is a guideline, and for food options and ideas.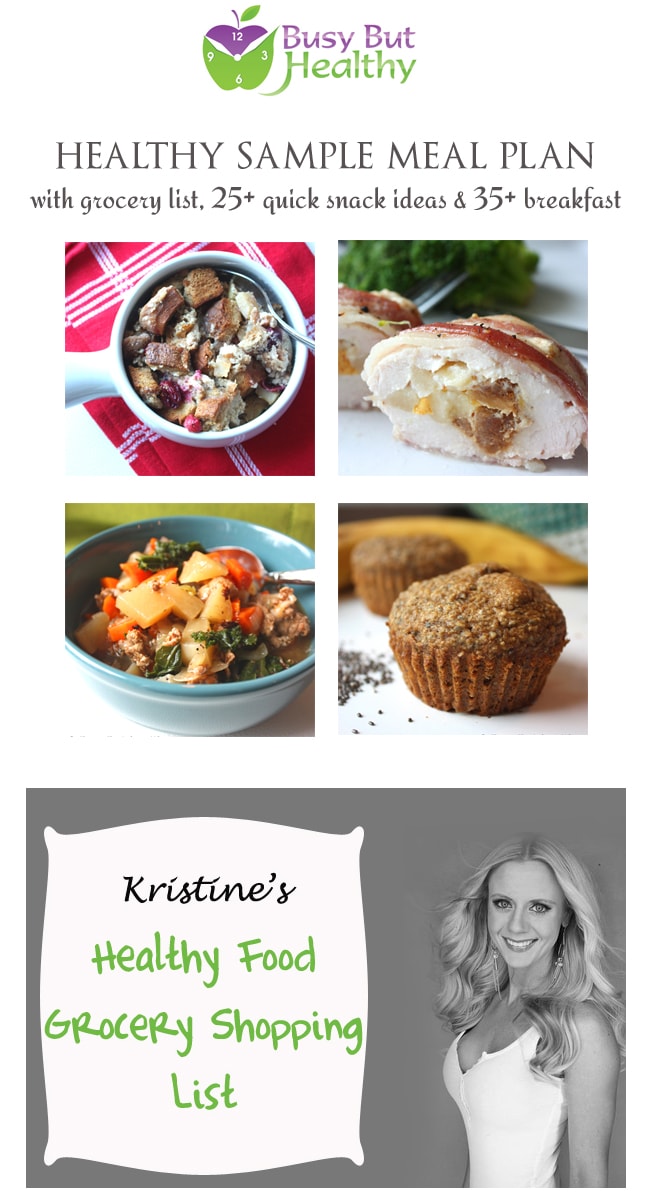 I hope this gives you plenty of ideas for getting on track for 2015! Feel free to leave a comment below with any questions, and I'd also love to hear some of your best tips!