We love to have fish every week if we can. Mahi mahi is one of our favorites. But truth be told, my hubby doesn't like having his fish plain.  I don't blame him…it tastes better with a bit of tartar sauce on the side.  This is something I quickly put together one day as a tartar sauce sub, as I looked at a store bought one and was grossed out by the ingredients.  Hydrogenated oils, high fructose corn syrup and a bunch of other stuff I couldn't pronounce. That's why this healthy tartar sauce is so fantastic, and what's even better is that it takes less than 5 minutes to make! Not to mention only 4 ingredients, and in our opinion, tastes way better than bottled tartar sauce anyway.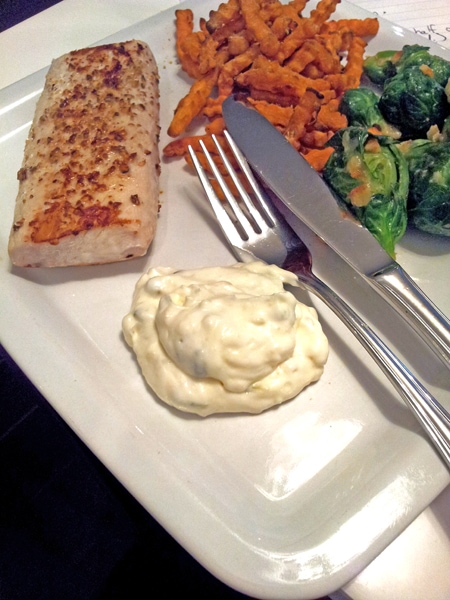 This recipe should serve 2 people as a condiment.  You can easily double or triple it for more people.  If you prefer not to use mayo at all, feel free to use all greek yogurt or even light sour cream…it will just have more of a tangy taste.
If you prefer not to use store bought sweet relish, you could always chop up dill pickle and use that, or mix some of the chopped dill pickle with a bit of stevia, and I bet that would be delicious too!
Healthy Tartar Sauce
Store bought tartar sauce is super high in fat and calories. This healthy alternative only takes 5 minutes to make, and tastes way better!
Author:
Kristine Fretwell
Ingredients
2 Tbsp reduced fat mayo
2 Tbsp non-fat greek yogurt
½ Tbsp relish (dill or sweet, I use sweet)
1 tsp garlic powder
Instructions
Mix all together in a small bowl. Refrigerate until you serve. Should last for a few days in a sealed container in the fridge.
Nutrition
Serving size:
Approx 2 Tbsp
Calories:
53
Fat:
3.5 g
Carbs:
4 g
Sugar:
1.5 g
Sodium:
160 mg
Fiber:
0.1 g
Protein:
2 g
Cholesterol:
5 mg