Filling a child's protein needs for the day can be a challenge, especially if they're a picky eater. My 5 year old doesn't eat meat, so I'm always looking for sneaky ways to give her extra protein. Children don't have nearly the same needs as adults when it comes to protein, so that's why I like this bars geared for kids. Each one of these healthy protein bars has 10 grams of protein, which is perfect for the little ones. My 1 year old will eat half of one, and my 5 year old eats a whole one. Perfect snack for after their activities to fuel those growing muscles!
They taste great, so to be quite honest, 2 of these would also be great for an adult!
The 'adult' version of these bars would be my "No-Bake Better Than Store Bought Protein Bars", which use almost all the same ingredients.
If your kids don't like raisins or chocolate chips, substitute for whatever add ins they like (dried cherries, cranberries, etc). If they have a peanut butter allergy, use almond butter. Nut allergy? Sunbutter would work great as well.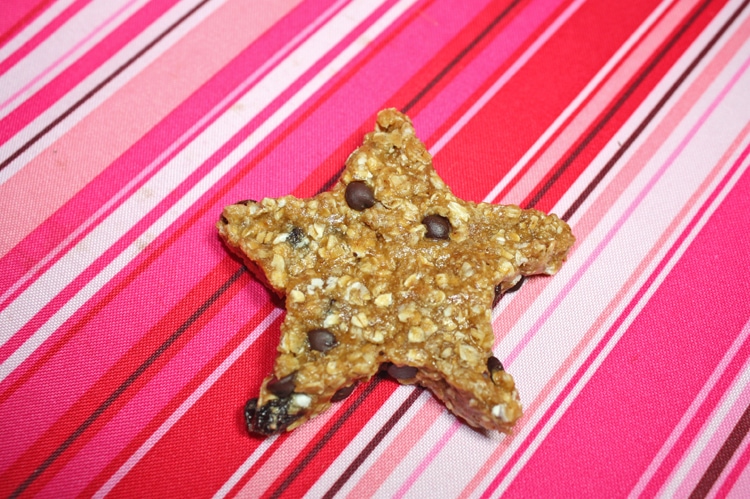 If cutting them with the cookie cutter is too much work (it does take a bit of time), you can easily just cut these into 16 bars.  I hope your kids enjoy these as much as mine!
No Bake Kids Protein Bars
These No-Bake "Kids" Protein Bars are a great way to get your kids extra protein, in a healthy way. These bars are gluten free, refined sugar free, can be nut free & use natural ingredients.
Author:
Kristine Fretwell
Ingredients
6 scoops whey protein (30 grams per scoop). Use plain whey, or one naturally sweetened. I used Whey Gourmet Naturelle
½ cup natural peanut butter, smooth
1½ cups quick oats
¼ cup honey
1 tsp vanilla
3 Tbsp mini (or regular) semi-sweet chocolate chips
3 Tbsp raisins (or dried cherries)
½ cup milk (I used unsweetened almond milk)
Instructions
In a large bowl, add in the whey protein and oats.
Stir in the peanut butter, and mix until it starts to come together.
Add in the honey and vanilla. Continue to stir until it comes together some more. Add in the milk and stir until almost combined. Then add in the chocolate chips and raisins.
Note: Cutting into shapes is more time consuming, so by all means, if you want to skip that and cut into 16 bars, go for it!
Form dough into a 9x9 square pan. Using whatever cookie cutter you want (I used a star), press into shapes and remove with a spatula. I placed all mine in small ziploc bags. Once you cut out whatever you can, press the remaining dough into half of the pan, so it remains the same thickness. Keep cutting shapes and removing the bars and pushing over the dough to one side until you have no dough left.
Store each bar in a plastic baggie and keep stored in the freezer. Can be eaten directly from the freezer. They soften up in a few minutes.
Nutrition
Serving size:
1 bar
Calories:
153
Fat:
6 g
Carbs:
16 g
Sugar:
8 g
Fiber:
1.5 g
Protein:
10.7 g