Since I can never have enough no-bake protein bar recipes, here is another, and its white chocolate and pistachio! What a great combo this is. I love pistachios. I've made another protein bar that contains pistachios, which you can find here. This one is different because I put some graham cracker crumbs into the mix. I love added some of them in protein bars versus doing all oats.
They look pretty fancy, but they were super easy to make. 15 minutes and they're done! Gotta like that!
I didn't buy my pistachios shelled, so I ended up doing that myself. I recruited the girls to help, and it turned out to be a great activity. Kept them busy for a little while! Although I think my 3 year old ate more than she shelled!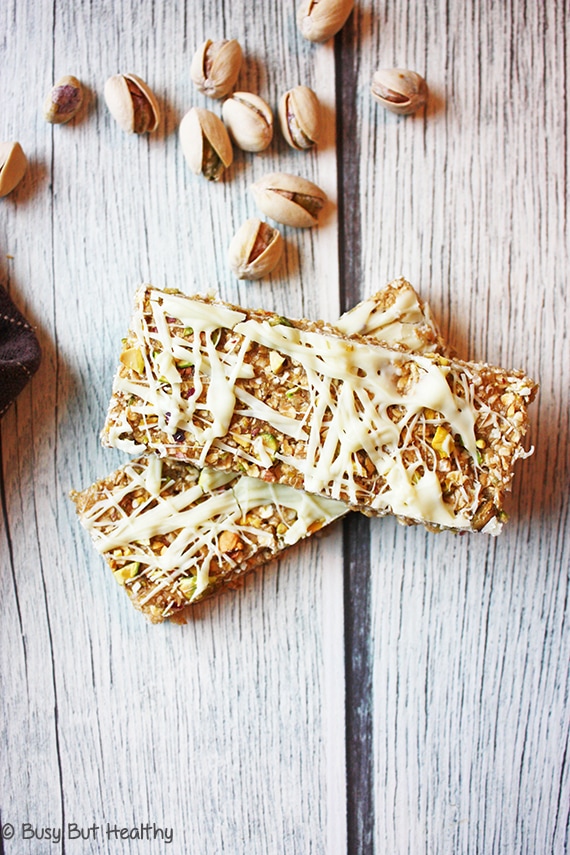 If you're not a fan of white chocolate, you can easily switch it up for dark or milk chocolate. But I happen to love white chocolate. The sweeter, the better!
These bars hold up very well at room temp. They will get a bit soft, but given that the weather is colder, they should do just fine in a lunchbox or purse for a few hours at least. I keep mine individually frozen so they're easy to grab and go. Also keeps them fresher longer as well.
Hope you give these a try soon!

No-Bake Pistachio White Chocolate Protein Bars
An easy and no-bake bar that's perfect to make ahead, store in the freezer and bring on the go.
Author:
Kristine Fretwell
Ingredients
For the Bars
4 cups quick oats
1½ cups graham cracker crumbs (I used Kinnikinnick Graham Crumbs for gluten free)
1½ cups whey protein, vanilla (I use Whey Gourmet)
4 Tbsp butter, melted (could also use coconut oil)
⅔ cup sugar-free honey (could use regular honey, nutrition will change)
½ cup salted shelled pistachios, chopped
¼ cup + 2 Tbsp milk (I used unsweetened almond milk)
For the Topping
2 Tbsp chopped pistachios
⅔ cup white chocolate chunks or chips
½ tsp coconut oil (or oil of choice)
Instructions
In a large bowl, mix together all the dry ingredients (oats, graham crumbs, whey protein, pistachios)
Add in the wet ingredients (butter, honey, milk). You'll want the dough to be stiff but not too wet. It will be sticky.
In a 9x13 rectangular pan, spray it lightly with cooking spray. But in the bars. Using a sheet of plastic wrap over top, press in the mixture evenly. The plastic will help prevent the mixture from sticking to your hands.
Next, make the topping. Melt the white chocolate and oil together in the microwave or on the stove. The oil helps to thin the chocolate. Don't try water or milk trust me it doesn't work.
Once the chocolate is melted, drizzle all over the bars, or spread a thin layer. Sprinkle over the extra chopped pistachios.
Place bars in the fridge until set, about 1 hour.
Nutrition
Serving size:
1 bar
Calories:
236
Fat:
9.5 g
Saturated fat:
3.9 g
Carbs:
31 g
Sugar:
8.8 g
Sodium:
107 mg
Fiber:
2.3 g
Protein:
10 g
Cholesterol:
19 mg