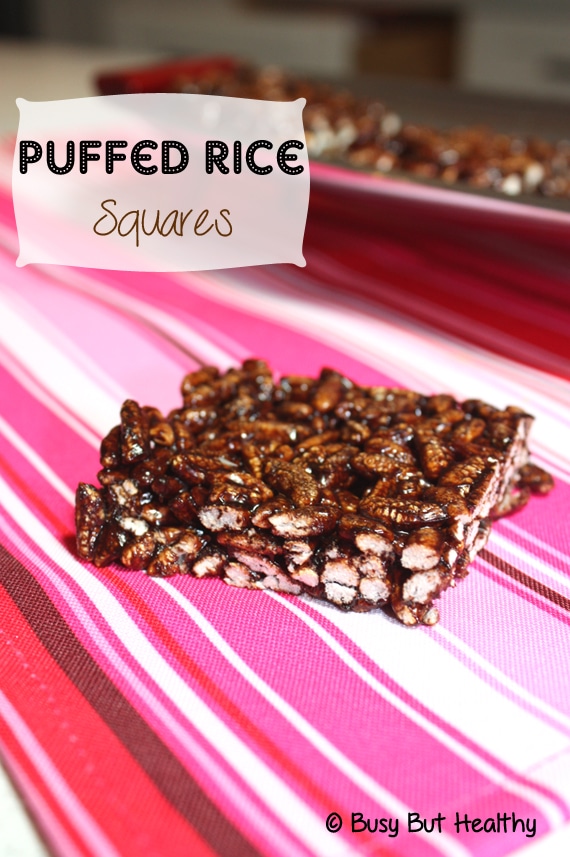 Pure nostalgia. Puffed Wheat Squares are something my Mom made growing up, and I can see why she liked them so much. They come together so quickly, and taste delicious.  Since going gluten free, I wondered if Puffed Rice Squares would be as delicious, so there was only one way to know…make some!
When looking back at the family recipe, I was shocked to see they contained corn syrup and brown sugar.  Even though I remember them being sweet and sticky, I don't think they need that much sugar to get a similar effect.  I was a bit stumped on how I could add sweetness without a bunch of extra sugar. Then I came across an ingredient that I thought would be a perfect addition. The NuNaturals NuStevia Cocoa Syrup. It adds a bunch of chocolately sweetness without adding a whole bunch of sugar.
In this recipe though, you do need a syrup of some sort to hold these together (I use brown rice syrup), and I don't recommend sugar-free syrup, as most are quite watery.  Brown rice syrup does the job very well as its one of the thickest syrups you can get, and I love that its not as sugary as other syrups.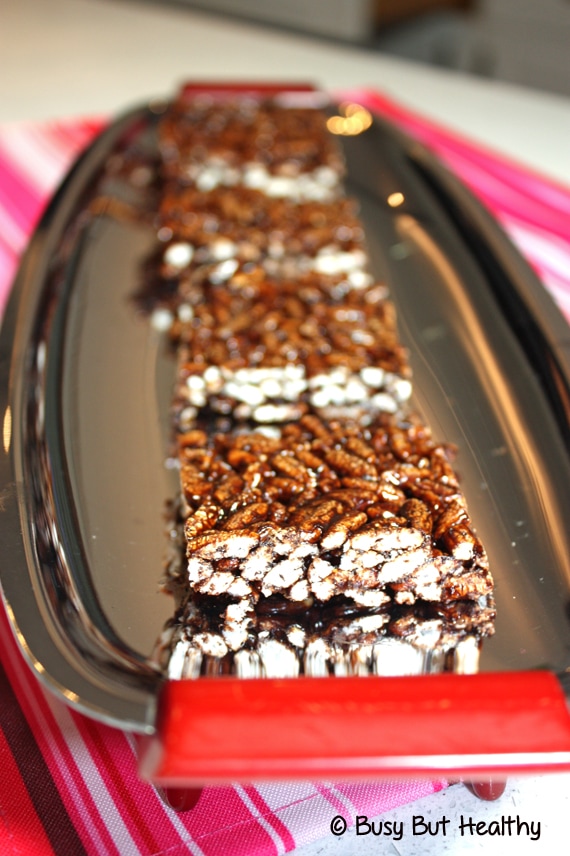 What's great about these?  Its only 5 ingredients, no-bake, and comes together in literally 10 minutes.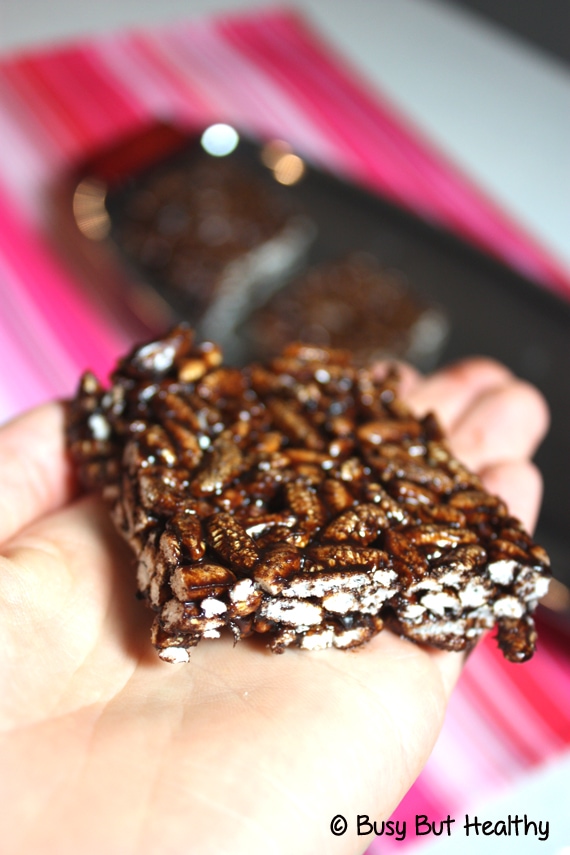 I used a 9×9 square pan, but an 8×8 will do as well. If you like your squares thicker, you could easily double the recipe and they will double in thickness. If you want 32 squares, you could also double the recipe and put in a 9×13 pan.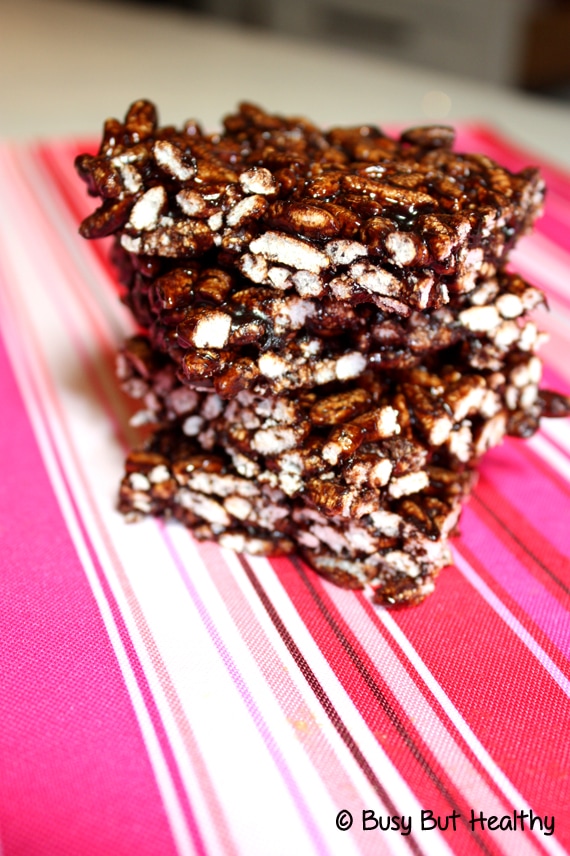 Since I'm using a new product in this recipe, the folks at NuNaturals and I thought it would be great to run a giveaway so 4 of you would have a chance to try out their new syrups, and a couple of my tried and true favorites as well.
I'm running this giveaway on my Facebook Page, so I urge you to go there and comment on the post. The contest will only be for a few days, so head over and enter.
If you want to purchase some NuNaturals on your own, at the checkout, enter code BLG0614 and you will receive a 15% discount on your entire order. This discount remains  EFFECTIVE UNTIL  JUNE 30, 2014 .
Online ordering customers may also receive FREE SHIPPING to the CONTINENTAL U. S. on all orders exceeding  $35.00 after discounts.
Puffed Rice Squares
Author:
Kristine Fretwell
Ingredients
¼ cup butter (or coconut oil or vegan margarine)
¼ cup syrup (I used brown rice syrup)
3 Tbsp unsweetened cocoa powder
3 cups puffed rice
1 Tbsp NuNaturals NuStevia Cocoa Syrup *
Instructions
In a medium saucepan, melt butter.
Add syrup and whisk until heated and boiling.
Remove from heat, whisk in cocoa powder and stevia chocolate syrup.
Fold in puffed rice and keep mixing until the puffed rice is completely coated with the chocolate mixture.
Meanwhile, mist an 8x8 or 9x9 pan with oil, add in puffed rice mixture and press firmly into the pan.
To avoid the mixture sticking to your hands, place a sheet of plastic wrap over top when pressing in the mixture.
Allow to chill in the fridge for at least 20-30 minutes. Cut into 16 squares.
Keep stored in the fridge with the pan covered or transfer the squares to a sealed container.
Notes
* If you don't have the stevia cocoa syrup, you could sub for extra brown rice syrup, or stevia drops or stevia packets. Use to taste.
Nutrition
Serving size:
1 square
Calories:
55
Fat:
3 g
Carbs:
8 g
Sugar:
2.8 g
Sodium:
29 mg
Fiber:
0.5 g
Protein:
0.4 g