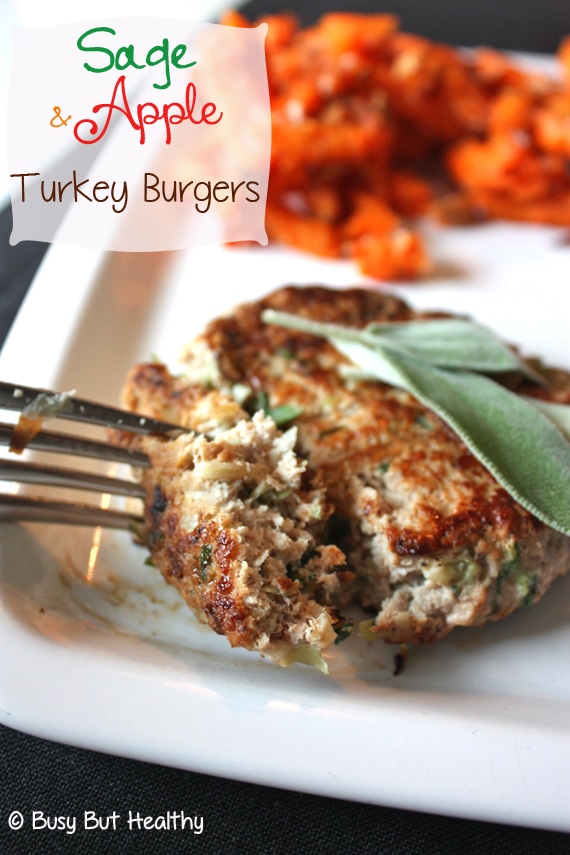 Whenever I think of sage, I always imagine apple with it. That was the simple inspiration behind these sage and apple turkey burgers. I find that when autumn comes, I crave earthy herbs like sage and rosemary.  This burger is done in a skillet on the stove so you don't have to step foot outside to BBQ them. I actually recommend you don't BBQ them, as they're too fragile of a burger. If you aren't going to use a skillet, I would recommend that you bake them instead (on a broiler tray or cookie sheet would work just fine).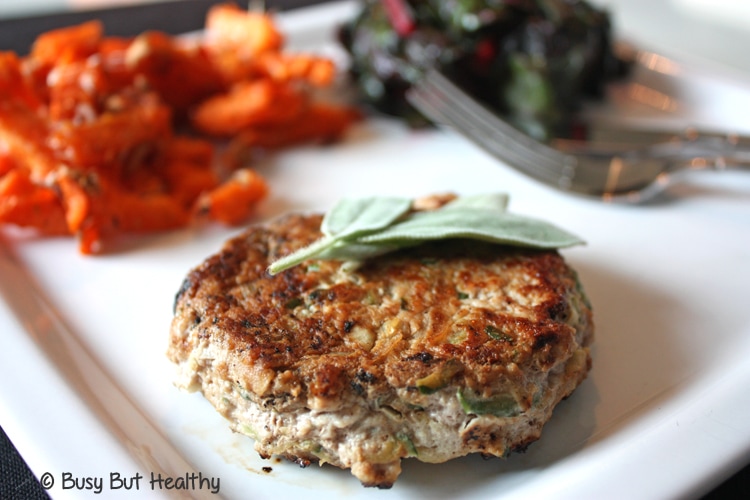 I decided to serve these without a bun, but you could most certainly serve them with a bun as well.  I imagine if you used a bun, it would be great slathered with some apple butter, and a touch of mayo.
I snuck some extra veggies in this burger, 1/2 cup shredded zucchini. I had plenty of zucchini in my garden this year, so I have a bunch pre-shredded in my freezer. The apple, onion and sage are the prominent flavors in the burger, the zucchini just adds some bulk, and nutrition! If you don't have any on hand, you could easily substitute for extra onion and apple.
I made some yam fries (in my Acti-fry) to go with them, and some simple steamed swiss chard. A great fall meal indeed. I hope you give it a try very soon!
Sage and Apple Turkey Burgers
Sage and Apple Turkey Burgers are a great quick dinner idea. Great flavors, gluten-free and only 5 ingredients! Can be served with or without a bun.
Author:
Kristine Fretwell
Ingredients
1 lb (454 grams) lean ground turkey
⅓ cup grated apple
⅓ cup grated onion
½ cup grated zucchini (I had some previously shredded and frozen. I thawed and squeezed out excess water)
¼ tsp salt
¼ tsp pepper
1 Tbsp fresh sage leaves, chopped
Instructions
Mix together all the ingredients (clean hands work best). Mixture will be quite wet.
Loosely form into 6 burgers.
Heat your large skillet over medium heat. Once hot, mist with cooking spray.
Place burgers in the pan and flatten out. Cook approx. 4 min on each side until golden and cooked through.
Serve with or without a bun. If you use a bun, it would be great with apple butter and light mayo! I served with no bun, yam fries and steamed swiss chard.
Notes
Tip: If you cook at too high of heat, they will burn and remain raw inside. Best to cook slower on medium heat.
Nutrition
Serving size:
1 burger
Calories:
84
Fat:
2.4 g
Saturated fat:
0.7 g
Carbs:
2.7 g
Sugar:
1.1 g
Sodium:
147 mg
Fiber:
0.8 g
Protein:
13.6 g
Cholesterol:
26 mg