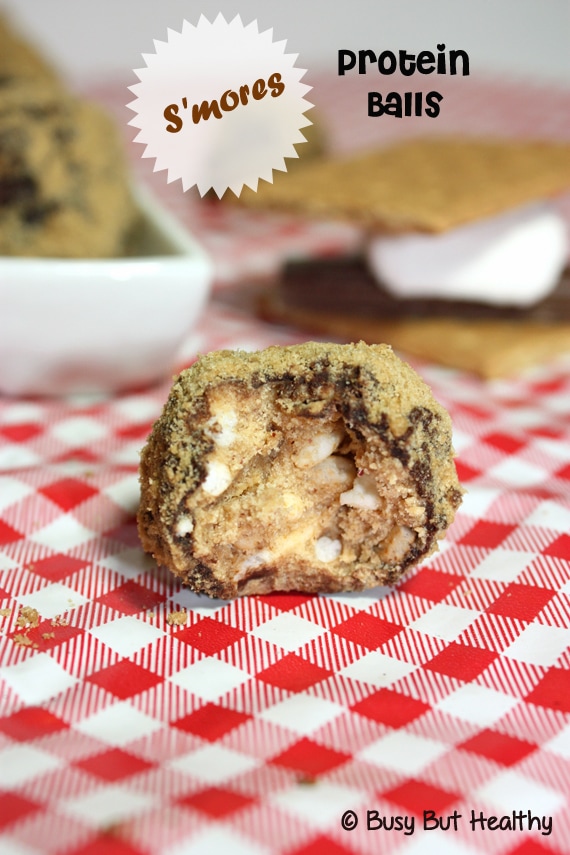 As many of you know, we are campers. Well, technically RV'ers. But no matter how you camp, whether you're in a tent or RV, something everyone does is make s'mores. We recently did our first camping trip this year, and as per usual, I ate too many campfire s'mores. Afterwards, I swore off them for at least a month, but I lied. It was 1 week later, that I was wondering what I could make to taste like s'mores. That's when these S'mores Protein Balls were born.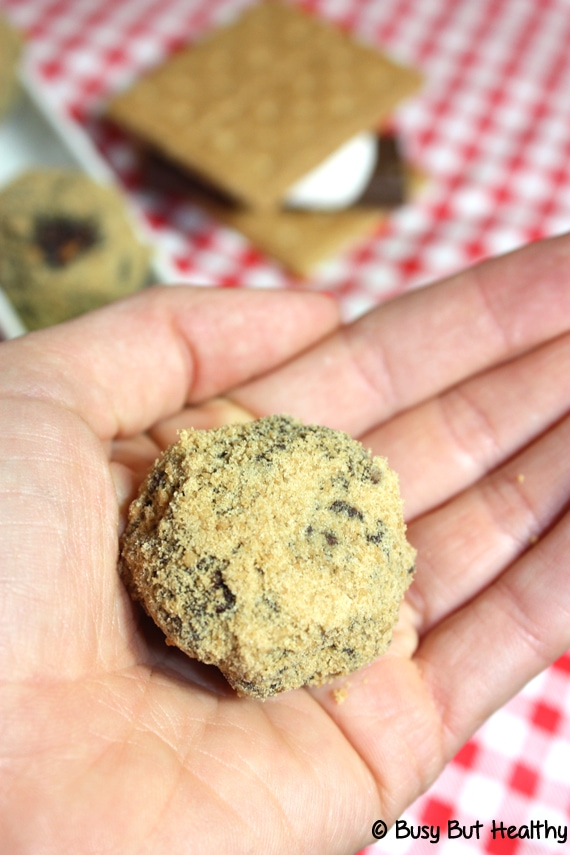 To me, they are like a s'more, but with peanut butter. So really, they are almost better! You get a bit of marshmallow in the middle, a chocolate coating and then the ball is rolled in graham cracker crumbs.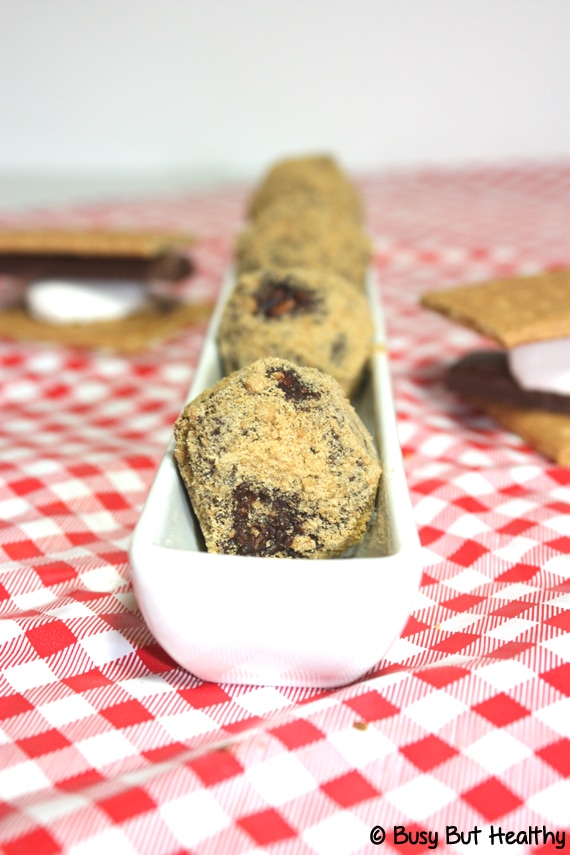 So next time you want a s'mores fix but don't want to sabotage your healthy eating plan, these are a great option! For snacks, post-workout, to take on a hike, or put in your kids lunchbox.
S'mores Protein Balls
The taste of s'mores in a delicious ball with added protein. Perfect snack to get your s'mores fix, and gluten-free.
Author:
Kristine Fretwell
Ingredients
½ cup natural peanut butter, smooth
¼ cup honey (I used Nature's Hollow Sugar-Free Honey)
¾ cup whey protein, vanilla
¾ cup puffed rice (I used Nature's Path)
⅓ cup marshmallows, chopped into small pieces
½ cup stevia chocolate chips, melted (I used Krisda, Lily's is another option)
1 tsp oil (I used avocado, could use coconut, safflower etc)
½ cup graham cracker crumbs (I used S'moreables GF crackers)
Instructions
In a bowl, mix together peanut butter and honey.
Add in the whey protein puffed rice and marshmallows, mix together with your hands, pressing it all together. It should be slightly crumbly, but it will come together when pressed into balls.
Take a small amount of mixture and squeeze into balls.
Then melt the chocolate you're using with the oil to thin out the chocolate a bit. I melted it in a small bowl in the microwave. In 30 second increments. Stirring after each 30 seconds. For me, it only took 60 seconds.
Dip each ball in the chocolate and spread the chocolate with your fingers around the ball. It will get a bit messy. You don't want the chocolate dripping on the ball or else it will make a mess of your crumbs.
Once the ball is spread with chocolate, roll in the graham crumbs.
Store in an airtight container in the fridge.
Can also be frozen.
Nutrition
Serving size:
1 ball
Calories:
87
Fat:
5 g
Saturated fat:
1.6 g
Carbs:
10 g
Sugar:
1.3 g
Sodium:
27 mg
Fiber:
2.3 g
Protein:
5 g
Cholesterol:
4.8 g