These Spiced Chicken Skewers on Avocado Purée scream summer BBQ. They are super easy to put together and taste delicious! They are not-too-spicy and have a bunch of vibrant flavors going on like coriander, ginger and cinnamon. If you like avocado then you'll love the puree that goes alongside the chicken. A great pair indeed.
But I can't take all the credit for this recipe, I adapted it from Ricardo Recipes, and I highly recommend that you take a peek at their BBQ section as they have a lot of great ideas to choose from! I'm always looking for new inspiration, and I'm so glad I decided to try this.
Not only do these skewers make a great dinner idea, they are also great as an appetizer. Rather than doing a potluck style BBQ this summer, I think its a great option to do BBQ friendly tapas instead of burgers. Serve it up with some mojitos or a pitcher of sangria and its an instant party!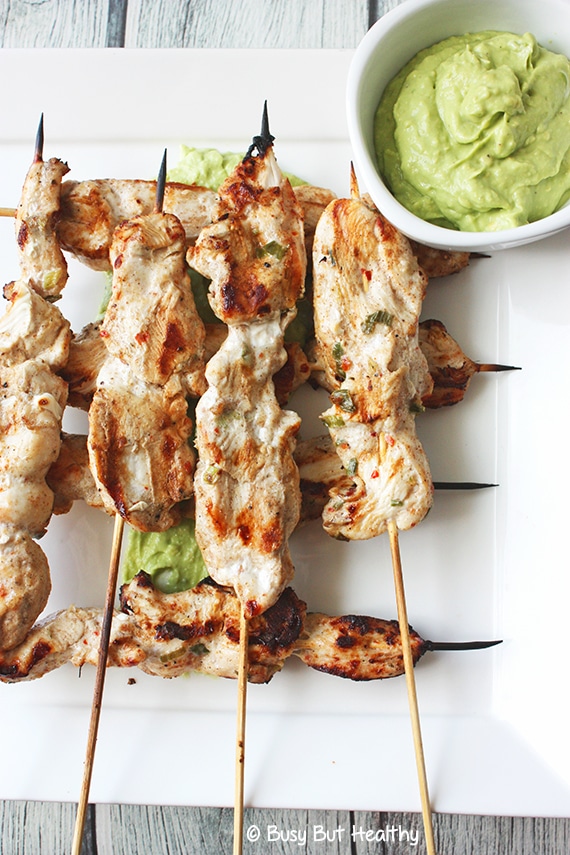 The marinade was so easy. Put everything in a bowl and marinate for as long as you have time for. Thread the chicken on the skewers and grill them up.  When the chicken is grilling, it just takes a few minutes to whip together the purée. Can't get much easier than that!
I'll definitely be making this again as we all really loved it, and there are so many ways to slightly switch up the spices to get a bit different of a flavor. But I really liked how this came out as is. I'm anxious to get on the site again and try something new as well!

Spiced Chicken Skewers on Avocado Purée
Author:
Kristine Fretwell
Yield:
4 servings (2 skewers per person)
Ingredients
For the Marinade
½ tsp coriander
½ tsp ground ginger
½ tsp red pepper flakes
½ tsp dry mustard
¼ tsp cinnamon
3 green onions, chopped
2 Tbsp oil
2 Tbsp lime juice
1 packet stevia
¼ tsp salt & pepper
4 chicken breasts (about 5 oz each)
wood skewers
For the Avocado Purée
1 ripe avocado
½ cup non-fat greek yogurt
salt & pepper (to taste)
Instructions
In a medium bowl, mix together all the ingredients for the marinade (aside from the chicken).
Cut your chicken into strips and place in the bowl with the marinade or place it all in a large zipper bag. Allow to marinate for 30 minutes to a few hours.
Once its had a chance to marinate, put the chicken onto your wood skewers.
Preheat your BBQ to medium heat (around 350 degrees).
Ensure your grill is oiled or sprayed with cooking spray.
Place the skewers on the grill for about 5 minutes each side until there are grill marks and the chicken is cooked through.
While chicken is cooking, assemble the avocado purée. Place avocado, greek yogurt and salt and pepper in a bowl. Mash with a fork, then whisk to get a smooth consistency.
Serve avocado purée alongside the skewers.
*Disclaimer: This post was sponsored by Ricardo Cuisine