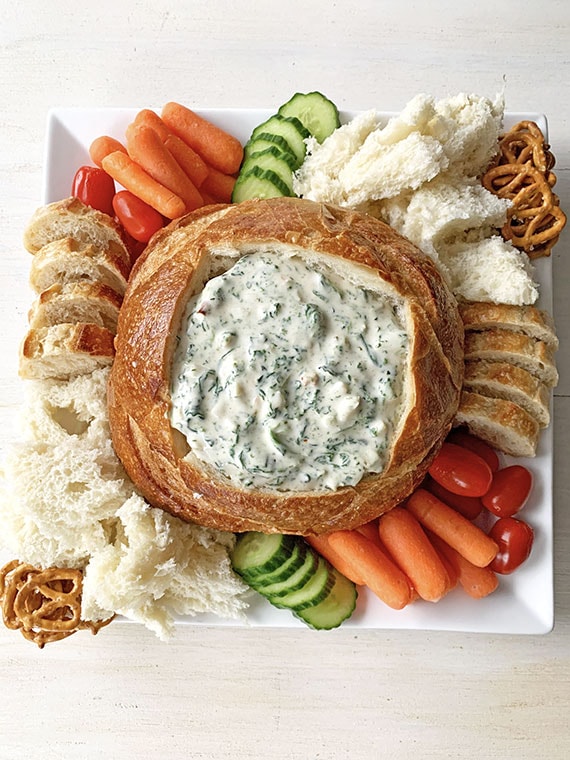 Ok, lets cut to the chase. If you're looking for a dairy-free or vegan spinach dip recipe that is amazing, this is it! It tastes identical to classic spinach dip. I've served this to a crowd several times and everyone loves it. Plus, they have no idea its vegan. Its actually quite simple to turn this recipe into a vegan version with a few simple swaps.
What's best to serve with this dip? Bread, and more bread!  But, if you're wanting some low carb options, cucumber, peppers and other green veggies work too!
How to serve in a bread bowl: Hollow out the loaf, and place a small round bowl inside the bread. I do this rather than just placing the dip directly into the bread. I prefer this way because if you're needing more bread, you can remove the dish and cut the bread bowl into pieces and the bread isn't soggy. You just over fill it a little so you can't see the dish you're using.
I hope you give this a try at your next gathering. Everyone will love it!

Vegan Spinach Dip
Easy and delicious vegan spinach dip. Tastes identical to traditional spinach dip!
Author:
Kristine Fretwell
Ingredients
250 g frozen spinach, thawed and water squeezed out
1½ cups plain unsweetened non-dairy yogurt *
1½ cups vegan mayo *
1 pack (40 g) vegetable soup mix *
1 227 ml can water chestnuts, drained and chopped
Instructions
First, thaw the spinach. This can be done in the microwave, so refer to the instructions on the package of your frozen spinach.
Once the spinach is thawed, squeeze out all the water with your hands or a paper towel or dish towel. Set aside.
In a large bowl, add in the mayo and non-dairy yogurt, along with the veg soup mix, chopped water chestnuts and spinach (breaking it up with your hands as you add it).
Mix well until everything is combined.
Refrigerate for at least 2 hours before serving for best results.
Notes
* I like to use a coconut based yogurt that's on the thicker side. I used the Silk cultured coconut.
* For the soup mix, I use the Knorr brand which is vegan. You'll need to check labels to ensure no milk ingredients
*For the mayo, my favorite is Hellman's vegan mayo
Nutrition
Serving size:
½ cup
Calories:
260
Fat:
25 g
Saturated fat:
4.6 g
Carbs:
6.5 g
Sugar:
0.6 g
Sodium:
590 mg
Fiber:
1.6 g
Protein:
1.5 g
Cholesterol:
0 mg