Nothing says summer more than popsicles! Growing up, my mom was a popsicle addict and was always making homemade popsicles. So since having the girls, I've always been inspired to make homemade versions. They enjoy the process of helping and they get so excited when they're ready to enjoy.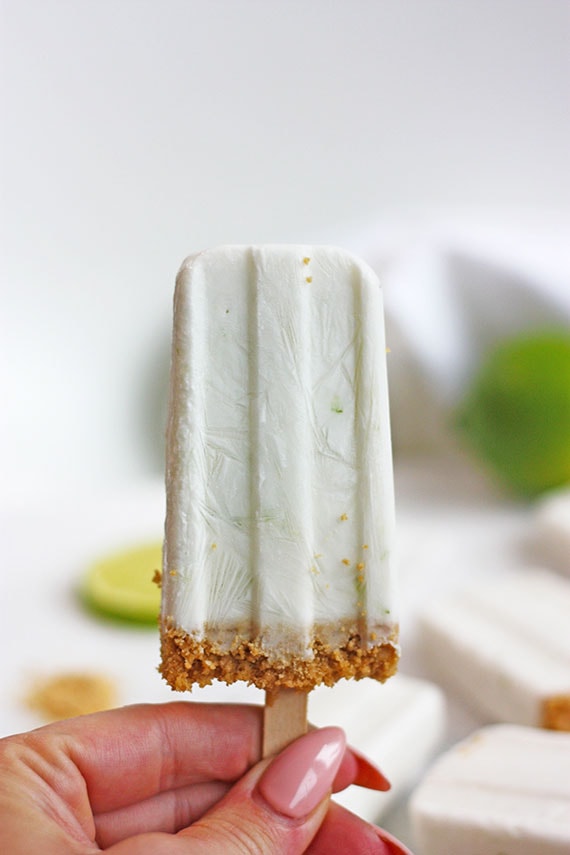 I was inspired to come up with these key lime pie vegan popsicles as I love all kinds of pie and wanted to incorporate a dessert into a popsicle. I thought coconut milk would make a nice rich base, and it does! I decided to keep these low in sugar, so used stevia packets to sweeten them.
Keep in mind that different brands of stevia have different levels of sweetness, so taste as you go. You may need to add more or less. In this recipe I use NuNaturals White Stevia Packets. FYI, if you're in Canada, its not available in stores here you'd need to order it online. LuckyVitamin ships NuNaturals to Canada (affil. link)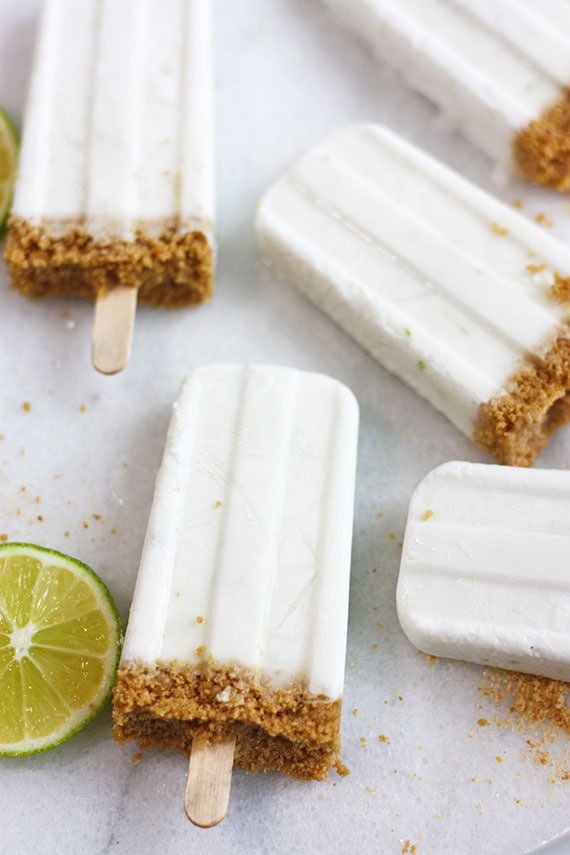 Even though they are "key lime" popsicles, I actually just used regular limes as key limes weren't available at my grocery store. So you could totally use either!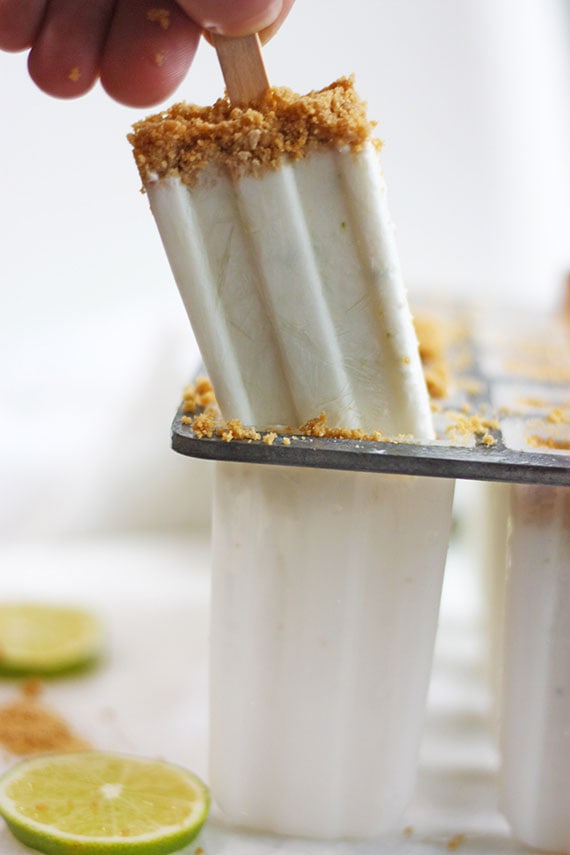 I also made mine gluten-free as I used gluten-free graham cracker crumbs, but you can totally use regular and get the same result. Same goes for using regular butter over vegan butter if that's what you have.
If you're looking for other healthy popsicle recipes, check out my Peaches n' Cream Popsicles, 18 Calorie Mango Pineapple Popsicles & Healthy Fudgesicles.

Key Lime Pie Vegan Popsicles
If you love key lime pie, you'll love these delicious popsicles. I used regular limes as they are easier to find at the store, but any kind of lime will do! Not only are these delicious and refreshing for summer, they are also vegan and gluten-free.
Author:
Kristine Fretwell
Ingredients
2 14 oz cans full fat coconut milk
¼ cup fresh squeezed lime juice
2 Tbsp lime zest
3 packets of stevia *
¾ cup gluten-free graham cracker crumbs
2 tsp melted vegan margarine
Instructions
In a large bowl or 4 cup measuring cup, whisk together the coconut milk, lime juice, lime zest and stevia or sweetener.
Once mixed and smooth, pour into your popsicle molds until they are ¾ full.
Place in the freezer. You'll want them to start to freeze, so the crumb topping doesn't sink to the bottom. If you are using a different type of mold that what's pictured, you won't want to freeze them too long or you won't be able to get the base out of the mold.
Once you're ready to add the crumb, mix together the graham crumbs with the melted margarine and place a couple teaspoons of the mixture into each popsicle mold.
Notes
* you could use any type of sweetener you wish. Just sweeten to taste. If you use anything other than a non-calorie sweetener, nutrition will change.
Nutrition
Serving size:
1 popsicle
Calories:
121
Fat:
9.8 g
Saturated fat:
7.3 g
Unsaturated fat:
.5 g
Trans fat:
0 g
Carbs:
6.3 g
Sugar:
2.8 g
Sodium:
50 mg
Fiber:
0.4 g
Protein:
0.5 g
Cholesterol:
0 mg